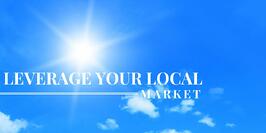 You know that old saying, "All politics are local?" Well, the logic also applies to marketing. If you're a small business serving a specific geographic area or region—like, say, Northern California — your marketing team needs to make every effort to attract nearby customers by "keeping it local." And the same idea applies to a San Francisco advertising agency. Just like other local business, we here at Palmer need to leverage local marketing outlets and strategies to expand our reach. Here's how we do it.
We see what people are saying about us.
In a classic case of inbound marketing 101, customers will be more likely find an ad agency before that agency finds them, and one way is through sites like Yelp. As a result, we make an effort to make sure our Yelp profile is accurate and up-to-date. (And if there are any agencies out there just itching to respond to a negative comment, we suggest you take a deep breath and read
this post
before doing so.)
We manage listings on Google. The search giant's listings let people find agencies easier—a must-have if there ever was one. Some agencies that already have a Google Business page and who operate within a defined area will likely merge their Google+ Business page with their Local page to make things a bit simpler. Other important local marketing directories include Yahoo Local and Foursquare.
We optimize our Facebook business page. Agencies, of course, are well aware of the power of Facebook. And so we all strive to make sure our business pages are up-to-date, visually appealing, and includes compelling and relevant content.
We revisit keywords and Search Engine Optimization. If you're a San Francisco advertising agency, you'll naturally generate a higher search ranking over time by leveraging geo-targeted keywords like "boutique San Francisco marketing agency" instead of "California agency." We also make sure these keywords inform our blogging strategy. Loyal readers to our blog will note that we include two to three instances of keywords per 500-750 word posts. These efforts help expand our local search footprint and feed our SEO strategy. (For more information along these lines, check out HubSpot's advice for local search here.)
We build a local presence. There are two relatively easy ways to do this. First, agencies include local news, press releases, and updates on your site. Secondly, agencies ask for links from local partners and businesses.
What do you think? (And bear in mind, these questions can be answered by non-ad agencies as well.) What are other ways agencies can leverage local marketing?