Behind every effective infographic is compelling data that speaks to the concerns of your buyer personas. And fortunately for marketing managers, statistics are all around us (hello, big data). The trick is to identify and contextualize the numbers, then display that data in a visually stimulating design, and voila!—you have an infographic that sings.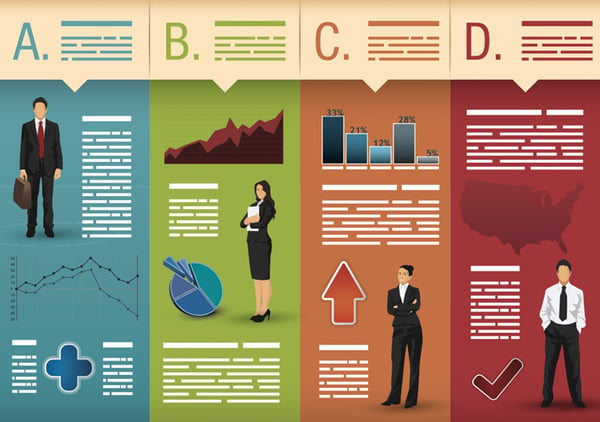 With that in mind, we'd like to take some time to look at 3 ways to create the statistics that will serve as the foundation for your infographic design.
1. Pull Statistics from Existing Sources
The easiest and most obvious strategy for collecting infographic statistics is simply to search the web. Let's say you're a community bank looking to reach out to Baby Boomers and retirees. Set up a Google Alert or go to Google Search or News and start searching. We gave it a shot via Google News, and these simple search terms—"Baby Boomers banking survey"—immediately revealed an interesting article entitled, "Gen Xers Outpacing Boomers in Retirement Prep." The findings:
The Great Recession left its mark on investors as 70 percent of respondents in a survey PNC Financial Services Group Inc. released Tuesday said they've changed their financial behavior as a result of the downturn. But 51 percent of Gen Xers are saving more for retirement compared to 37 percent of baby boomers. And about two-thirds of those aged 35-49 believe they're solely responsible for their retirement—ruling out Social Security, pensions and inheritance—compared to 45 percent of those aged 50-68.
As you can see, the statistics are compelling and they speak to your target demographic: the key ingredients for a great infographic.
2. Poll Your Customers
This strategy serves a dual purposes. On one hand, this will generate information that can be leveraged for infographic marketing purposes. On the other, it can help drive engagement on social media.
For example, follow the lead of TD Bank, who found that Massachusetts small businesses had a prosperous 2014 and are optimistic about the year ahead. Specifically, 4 out of 5 of small businesses hit their sales goals last year, according to the bank's poll of 250 firms across the state. This year, 60 percent are expecting to increase sales or revenue, and more than 50% plan to take out a loan to expand their business.
That's good stuff that can also be spun on social media; simply ask your followers, "Recent poll finds small businesses are optimistic for 2015. Are you?"
3. Crunch Your Internal Data
Whether or not you're a financial institution, a retail establishment, or engaging in e-commerce, chances are you're already sitting on mountains of data that pertain to your customers. As an example of this, Forbes looked at their own customers' behavior and found that women make about twice as many checking account transactions through mobile banking as men do—two checks a month vs. one. While this internal data approach has the benefit of being original content, and can be used to attract even more customers through infographic marketing, it is also the most work-intensive option of the three listed here.
Armed with these approaches, your team can find the statistics to serve as the basis for a powerful infographic. For the next step, check out some of our design tips on creating infographics.
What do you think? How does your team discover statistics for infographics? What's challenging about infographic marketing?