There's nothing as powerful as a first impression and that's precisely why your solar company's landing page is so critical. The average visitor spends just a few seconds on a website. Creating landing pages that compel visitors to stay and transform them into solid leads is incredibly important. As we all know, not all visitors are the same; some are at the top of the purchase funnel and some are just shopping around for solar companies in their area. Others are towards the bottom of the funnel but still need a little nudge before they convert.
With that in mind, today we'd like to look at the different types of solar content offers you can host on your landing page depending where the prospect is in the purchasing funnel to help keep them interested in your company offers.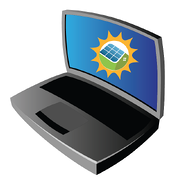 Top of the funnel. Your goal here is simple: educate and attract visitors. After all, prospects at the top of the funnel often arrive at your site as complete strangers. Perhaps they find you through a simple web search or via social media. Either way, the solar content offers that you provide need to exude your firm's expertise while not coming across as overly "sales-y."
These offers include:
eBooks

— These are a great way to quickly connect with visitors based on issues that are important to them. Think of titles like, "Dispelling the Myths About Residential Solar Panels," "A Starter Guide for Residential Solar Panels," and so on. Talk directly to customers' "pocket book" issues and any existing obstacles that may make them reluctant to pursue solar panels.
White Papers — White papers are bit more academic and data-intensive. Here you'll give yourselves more room to explore a complex issue in greater detail. White papers tend to resonate best with small business owners who are worried about heating bills as well as any tax implications associated with commercial solar panel installation. This is where case studies and testimonials can be particularly effective. Write up a "success story" of a satisfied client that resembles one of your commercial buyer personas.
How-To Videos or Webinar — The logic here is simple: don't explicitly sell to visitors, but rather show them how they can help themselves. Something like a quick video on home solar panel installation would certainly fit the bill.
Middle of the funnel. At this point, you've established trust and awareness with prospects. The next step is to generate greater interest and desire by showing what would happen if they worked with you.
These offers include:
Demo video

— Show viewers how the relationship with your firm would look in the real world. For example, a video like "Working With Stockton Solar" will show the customer talking to a sales rep, examining projected cost savings, seeing the technician at their doorstep, and ripping open their reduced heating bill in the mail.

FAQs

— Visitors are thinking about working with you, but there are some issues holding them back. They may include questions around financing, up-front costs, contracts, the length of time before they they see savings and make their money back, etc. Write up a simple FAQ that answers these questions.

Data Sheet

— This is a great tool to "make the case" with real numbers. A one-page sheet like "Cutting Your Home Heating Bill with Solar: By the Numbers," which includes statistics like, "The typical Northern California homeowner saved 34% in electricity bills in 2013."
Bottom of the funnel. Here you need to show the tangible value of your company.
These offers include:
Free Trial or Offer

— Offer a "no-risk" trial or steeply discounted offer.

Free Consultation/Estimate

— Compel visitors to call for a free consultation that looks at projected upfront costs as well how much they can save.
Looking for more ways to generate high-quality leads? Download our Lead Generation eBook.