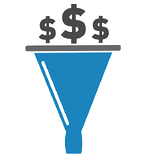 The secret to generating leads for financial institutions using inbound marketing isn't much of a secret. In fact, it can be best simplified by that age-old adage, "give the customers what they want."
By producing compelling, high-quality content that speaks to customer needs, financial services can, over time, create a pipeline of quality leads. To do this, financial institutions must also abandon their preconceived notions around marketing. The goal of inbound marketing isn't to "sell," but to "help."
With that in mind, we'd like to pass along some ways to generate leads via financial institution inbound marketing.
The easiest and most obvious first step is to make sure you have a consistently published blog. In fact, HubSpot found that companies that publish between 9 to 15 blog posts per month start to see a huge increase in inbound leads. Further, as companies reach a total of at least 51 blog posts, the volume of inbound leads goes up considerably. Of course, the mere existence of a financial blog won't guarantee success. Financial institutions need to write with their buyer personas in mind, actively promote their content, keep an eye on keywords, and adhere to an editorial calendar. (Click here other key ingredients to a successful financial blog.)
Then there's social media. While most financial institutions should have a presence on sites like Facebook and Twitter, they shouldn't assume these platforms will help generate leads. As far as financial institutions are concerned, LinkedIn can provide more lead generation opportunities due to the fact that its users are there for networking purposes. Furthermore, LinkedIn provides a great venue for banks to exude expertise — another key activity for optimizing your inbound marketing efforts. For more tips on using LinkedIn for financial lead generations, click here.
So far we've been exploring inbound marketing techniques that help introduce your brand to leads. Next up, we'll briefly look at three techniques to start pushing these leads through the purchasing funnel.
Calls-to-Action, whether on your web page or in a social media post, can compel leads to engage with your brand. Make sure your CTA is crisp, well designed, and promises something customers will want, like a free auto loan refinancing consultation.
Once they click the CTA, make sure they're taken to a well-designed landing page. Landing pages should have minimal clutter and succinctly spell out how the lead can get what they came for. To that end, when applicable, landing pages will need well-constructed forms whereby leads can enter their information in exchange for a promised item like a fact sheet on first-time home-buying.
So there you have it — a quick review of ways financial institutions can use inbound marketing to generate leads. If you have experience in this area, we'd love your feedback. What techniques have proved particularly effective? What's difficult about adopting inbound marketing at your institution?
Considering a partnership with an inbound agency? Download our Hiring an Inbound Marketing Agency eBook.