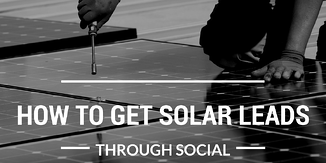 Social media remains one of the best channels for solar firms to generate high-quality leads. But don't be fooled: Lead generation is far more than simply posting a cool photo or infographic on Facebook. Your social media for solar strategy, while built on compelling content, doesn't exist in a vacuum. You need other pieces in place to help guide the visitor from that initial view through the entire lead management process.
We'll look at these key inputs in a second, but first, let's take a closer look at some key foundational components, shall we?
First and foremost, your social media strategy should be guided by the inbound marketing solar funnel. After all, every lead that views your social site resides at a different point in the funnel. Some are "top of the funnel" leads who need to be convinced of your brand's expertise and experience. Others are "bottom of the funnel." They get the value proposition and instead need to be converted with an offering like a free consultation. Also make sure you have detailed buyer personas aligned to each stage of the funnel; as HubSpot notes, deep understanding of your buyer personas can also dictate what time you'll want to post on sites like Facebook.
Next up, roll out compelling content aligned to this stage. Traditionally, you'll find that most content on social media will be most attuned to "top of the funnel" leads. That's because established leads are already in your CRM system. You already have a relationship. Social media, however, allows you to build this relationship and pique viewers' interest by posting valuable white papers, blog posts, FAQs, customer testimonials, videos, or other pieces of content that convey expertise.
In fact, given the wealth of great information out there regarding the promise of residential solar, it shouldn't be too hard to generate viewer clicks. The real challenge in social media for solar, as we noted at the beginning of this post, is to convert these clicks into high-quality leads.
Solar brands need to guide users from that initial click through the sales funnel by rolling out three distinctive tools to maximize lead generation efficiency:
Calls to Action — The goal here is simple: get the viewer to commit to that extra click. "Want to learn more about how solar can help cut your household energy bill in half? Download our free residential solar fact sheet."
Landing Pages — Visitors typically make up their mind about a website page within a few seconds. It is important to combine attractive images with intriguing information on your landing page. Click here to learn how to create a killer landing page that efficiently captures lead information.
Thank You Pages — Once a visitor has positively responded to a CTA and a landing page, they should be directed to a Thank-You page. Generally this comes after the lead has filled out a form on a landing page. The Thank-You page acts as the host of the valuable content you offered in your CTA and explained on your landing page,
Lastly, make sure to test your efforts to find out what works. Set measurable objectives, establish a methodology for gauging success, experiment, and set action items based on what you learn.
What do you think? How does your firm leverage social media to generate solar leads? Which platforms are the best? Will you dial up or cut back your social media lead generation efforts in 2015?