When someone mentions Easter marketing, what do you think of? We think of those Cadbury Eggs candy commercials with the cute little bunnies. And that's about it.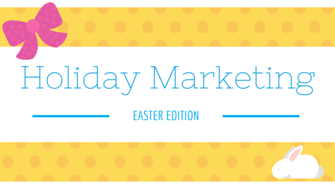 Despite advertisers' best efforts—which we'll look at more closely in a second—Easter hasn't really caught on as highly lucrative holiday season, especially compared to Christmas, Valentine's Day, and Halloween. As this article notes, the National Retail Federation reported that end-of-year Christmas-related consumer spending totalled $600 billion. Easter spending, meanwhile, is predicted to come in under $16 billion in 2015. Why is this?
The most obvious reason (beyond the fact that Easter is a solemn and holy holiday) is that it doesn't intuitively lend itself to buying stuff. The practice of buying gifts for Christmas is rooted in the Christmas tradition. Valentine's Day is tailor-made for giving bouquets of roses, bottles of wine, and jewelry for that special someone. And Halloween is synonymous with candy, costumes, and parties. Easter? Not so much.
This hasn't stopped marketers from trying to change the paradigm.
According to the aforementioned article, retailers are bullish on this year's Easter marketing season. And why is that? Why, the weather of course. Now before you laugh off the premise, remember: you're (likely) sitting in balmy Northern California, free to roam, bike, hike, and do what you please. The rest of the country is still covered in ice. In fact, at the time of this writing, meteorologists are predicting yet more snow for the New York City area.
Weather affecting economic behavior is, of course, a very real phenomenon. When the weather's bad, people stay home. They buy less stuff. They don't go out to dinner as much. Bad winter weather has a particularly harmful effect on industries like manufacturing, auto sales, and—you guessed it—retail.
And so retailers everywhere are hoping that the imminent spring will compel cooped-up shoppers to spend, spend, spend. As the CEO and President of NRF Matthew Shay said in a press release, consumers have been left with a lot of "repressed demand due to the harsh winters." So even though consumers are wary about spending in their money this year, retailers are expecting that warmer weather will "improve the mood of the shoppers and they will want to buy holiday decorations, bright clothes and different other items."
Our take? We consider it a bit of wishful thinking. After all, consumers can buy retail goods online, and drawing a connection between warm weather and Easter-related shopping is a dubious one: Consumers would buy more stuff because of the warm weather, and not Easter itself. (And it's pretty cold in December, yet consumers till camp outside Best Buys at 2 am on Black Friday, right?)
Therefore, we encourage marketers aiming to create some sort of Easter-related holiday marketing campaign to tread carefully. Shoppers may find such campaigns distasteful or just plain weird. More importantly, it's hard to create a connection between, say, buying residential solar panels with Easter, because, of course, none exists. Save your money for efforts that generate a far stronger return on investment.
Brands that may consider an Easter-related campaign include apparel and candy-makers. According to the NRF, when consumers do spend money on Easter-related purchases, they tend to so in these two areas.
What do you think? Does your firm roll out an Easter-related holiday marketing campaign?
Need more help in optimizing your marketing efforts — holiday-related or otherwise? Contact us for a free consultation.