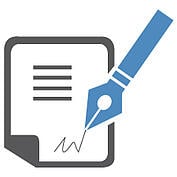 The jury is in. Blogging will continue to be of critical importance for brands in 2015. This, of course, isn't earth-shattering news, but what is interesting is the way in which blogging is expected to evolve across the coming year.
For example, we envision more companies using blogs as a way to create
brand
ambassadors. Instead of rolling out an informal, one-size-fits-all approach, brands will spotlight in-house experts or sales reps. Think of recurring posts from Bob the solar financing pro or Linda the retirement expert. Larger brands do this; now smaller brands will follow their lead.
This trend underscores the importance of creating and implementing a blog editorial calendar. Without some guidance, your blog will inevitably falter. You need to establish clear roles, responsibilities, and what content gets published when. So let's get right down to it. Here's how to write a blog editorial calendar.
First off, you need to select a platform. There is no right answer here; a small company can use an Excel spreadsheet or a Word document. Brands with more than three writers, meanwhile, may consider Google Calendar. The point is to make the information easily accessible. If existing writers and employees are comfortable with Calendar then stick with it, while also remembering the needs of your guest bloggers.
Next up, pick the days you'll be publishing blogs. A good rule of thumb is two to three days a week. (On a side note, remember that your blog posting frequency is different than you social media posting frequency. Click here for guidance regarding the latter.) Blog posts should be 500-750 words with a max of three hyper-linked keywords.
Which brings us to the content itself. A majority of your blogs should be informative, not sales-y. Therefore, populate your calendar with specific topics like this:
February 5 - Analysis of Governor Brown's new energy plans. Keyword - Los Angeles residential solar
February 8 - Residential solar in 5 easy steps. Keyword - Southern California solar
February 12 - When Solar Isn't Right For You. Keyword - how to pick a solar provider
This aforementioned step, as you can imagine, is an important one. Topics should align with your buyer personas' needs and concerns. To that end, dial in your sales and marketing reps. What are they hearing in their chats with leads? What are the biggest obstacles to conversion?
Also keep an eye on industry-related blogs and your Google Alert feeds. If you come across a very impressive piece elsewhere, don't be afraid to re-post it; just make sure you properly attribute it, and better yet, provide your own analysis and commentary. Oh, and while you're drawing up your calendar, think of ways to newsjack or take advantage of upcoming holidays.
Lastly, make sure you have a content marketing process in place once the post goes live. Who's responsible for marketing it on social media? Does your blog have widgets in place to simplify social sharing? Who's checking your blogging analytics to see what content is resonating with users? Once these pieces are in place, the editorial calendar is ready for sign-off.
And that, in a nutshell, is how to write a blog editorial calendar. What do you think is the most critical piece of the puzzle? Did we miss anything? Do you foresee blogging becoming a more important part of your inbound marketing strategy in 2015?