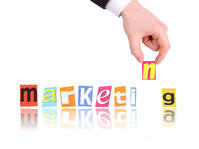 It's always fun to make bold predictions about the future. It's not so fun when, thanks to the Internet, people can call you out on them. (Case in point: this 2011 Fox article listing five reasons why Rick Perry would be elected president in 2012. Yikes.)
But rather than run from our predictions, we here at Palmer choose to face them head-on. Therefore, with 2015 upon us, we figured it'd be a good time to pull up our predictions from 2014, see how well we did, and then look ahead to the upcoming year.
Back in December of 2013, we published our "Holiday Cheat Sheet: Five 2014 Marketing Trends You Need to Know." The trends were Facebook advertising, more interactive retargeting ads, more real-time social engagement, more consideration for mobile in the marketing realm, and better content.
All in all, there were no duds in the bunch. Indeed, if we can characterize the evolution of social media and digital marketing in one pithy concept, it would be a relentless drive towards greater personalization and targeting. As the quality of user data improves and accumulates, marketers need to continue to embrace analytics and demographic insights to deliver precise ads. We (not so boldly) predict that these themes will carry over into 2015.
And here's the funny thing. None of these 2015 trends will seem particularly new or novel. Rather, successful marketing teams will optimize their existing processes and tried-and-true methods to generate greater returns on investment. Take the aforementioned concept of micro-targeting, for example. Platforms like Facebook and Twitter now have the retargeting capabilities that should get marketers excited. But software alone won't ensure success. Teams need to reexamine their buyer personas to make sure their micro-targeting investments are actually targeting the right leads.
The same logic applies to paid advertising. Thanks to tweaks in Facebook's algorithm, great content alone doesn't translate into follower engagement. As a result, brands are taking a closer look at paid advertising. So once again, define your target audience while not forgetting that great content is still a critical ingredient. In fact, according to this article looking at content marketing trends for 2015, every surveyed company plans to increase its investment in content in the new year. What's it mean for your team? Roll out FAQs, white papers, and other pieces of inbound content that exude expertise.
Speaking of compelling content, social signals will grow in importance. Social signals are simply things like "Likes" and re-Tweets; stamps of approval given by followers around a specific piece of content. Google likes content with strong social signals because it shows that real, live humans like and appreciate the stuff. The result is that urls with strong social signals can see their page rise in search results. Therefore make sure you blog has social sharing buttons to simplify the sharing process.
Lastly, we'd like to introduce a new trend that probably won't come as much as a surprise to many of you, and that would be marketing automation tools. All the aforementioned work will place more strain on your team. Something's got to give, and automation tools can provide some relief by taking certain tasks off their plate. Furthermore, there are many social media marketing automation tools that will save your team time. Tools like Zapier monitor YouTube, identifies relevant content, and automatically generates a Tweet. Postplanner automates the sharing of content on your Facebook page.
That's our two cents. What about you? What 2015 marketing trends did we forget to mention? What 2014 trends did we miss completely? What areas of your marketing strategy will see the biggest boost in investment in the new year?
Need more help in crafting a 2015 marketing plan? Contact us for a free consultation.