When we think about email marketing, we inevitably think about things like email list segmentation, creating great content and having a strong CTA and landing page to collect prospect information. Of course, all of these aforementioned tasks will have been a waste if no one actually reads your messages. Furthermore, spam filters ensure that recipients may not even have the opportunity to see your emails in their inbox in the first place.
The challenge for marketers is to ensure that messages get delivered to their intended audience which bring us to the concept of Sender Score. HubSpot recently published a video that talks about Sender Score, a metric that enables marketers to measure their email deliverability, and it's full of useful insights to help boost email deliverability. Check out the video or simply read on for a thorough summary below.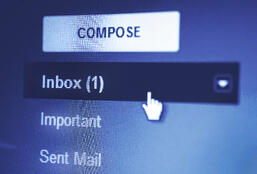 What is Sender Score?
The Sender Score is an algorithm created by a company called Return Path that ranks every outgoing mail server's IP address on a scale of 0 - 100 (with 0 being really bad and 100 being excellent). Sender Scores are unique to a company by tracking how many people unsubscribe to your emails and report them as spam. The algorithm, much like, Google's search algorithm, factors in previous user behavior to calculate your Sender Score. For example, if a user marks email as spam, it is likely due to poor reader response in the past from emails sent from that IP address. The goal for businesses is to first gauge their Sender Score and then improve it to optimize their email marketing efforts: the higher the score, the easier it is to make it into an inbox.
Determining Your Sender Score
To find out your Sender Score, simply visit Return Path's registration page. The page will generate a report that will provide you with your overall Deliverability score. The page also provides "reputation measures" for your IP address, looking at "Complaints," "Volume," and other measures that affect your overall deliverability. If your Deliverability score is over 90, congratulations, you're doing great. If you're between 50 and 80, you'll need to do some investigation, and if you're below 50, you'll need to reexamine your email marketing strategy in its entirety.
Improving Your Email Deliverability
Now comes the $64,000 question: how can you improve your score if it's below 90? Here are some tips:
Identify current subscribers who are inactive — those who rarely open emails, much less click through included links, etc. Then ask them if they still want to be included. If they opt out, that'll reduce the likelihood they'll flag you as spam in the future and will help keep your list clean.
Ask subscribers to add you to their address book — a practice known as "whitelisting" — so aggressive spam filters won't automatically divert emails that recipients actually want to read.
Give readers an out by including a clear unsubscribe link. Also include a physical mailing address in your email footer.
Use a familiar name, like your company's president or a relationship manager, as the email's sender, increasing the chances that readers will recognize you in their Inbox.
Make your emails more user-friendly by offering HTML and plain-text versions.
Test emails you send with your subscriber's email clients to ensure they're successfully delivered.
If people unsubscribe, remove them from the list as quickly as possible.
Get email sender accreditation from a third party so ISPs know you are a trusted sender.
Now we'd like to ask you to join the conversation. Clearly email marketing remains a huge component of your team's toolkit. What tips have proven helpful to boost email deliverability? Would something like a Sender Score prove helpful for your team? What's particularly difficult about improving email deliverability?
Looking for other ways to measure your inbound marketing efforts? Download our Tracking ROI eBook.