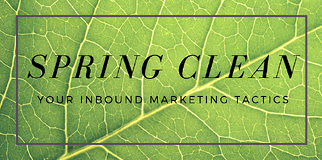 Spring is here, and that means spring cleaning, which gave us an idea. While you're emptying out the basement and hauling trash to the curb, why not spring clean your inbound marketing tactics? Better yet, we'll even make it easy for you. Here's a list of which

inbound marketing

tactics to revisit and how to make them shiny and as good as new.
Revisit Your Buyer Personas. Your buyer personas are the foundation of your inbound marketing strategy, so dust them off and take a closer look. What's changed? How is the improving economy affecting certain demographics? Which social media networks are becoming more popular with these demographics? What are your personas' biggest obstacles to conversion?
Check Those Keywords. Log into your Google Analytics dashboard and find out how leads discover you. Check the search terms, local search volume, and how long visitors spend on your site. If necessary, tweak your keywords to attract the right visitors.
Website Refresh. Is your site mobile-friendly? Is there too much "noise" that distracts from the customer experience? Is the customer navigation path smooth and intuitive? Is your site and content attuned to Search Engine Optimization, including proper keyword placement, page properties, and image tags?
Dial in Your Editorial Calendar. Make sure this blogging roadmap includes things like a consistent publishing schedule, keyword and content recommendations, and ensures a majority of posts exude expertise and experience by speaking directly to buyer persona needs.
Market That Content. Make sure you're properly promoting your content on social media sites while considering an investment in Pay-Per-Click ads. Whether its AdWords, Facebook, Twitter advertising, PPC ads are more precise and targeted than ever before—and each platform allows you to set your own budget. Regardless of your platform, also measure your performance to make sure you're making the most out of your content marketing efforts.
Optimize Landing Pages and Calls to Action (CTAs). Adhere to best practices in landing page design with an eye-catching design, an optimal amount of forms, and an offer aligned to buyer persona interest. Then ensure that your CTAs are crisp, compelling, and frequently A/B tested.
Create Killer eBlasts. Improve your eBlast CTRs with a user-friendly design, segmented lists, and a content offer attuned to buyer persona need. A/B testing is also critical.
At the end of the day, you likely won't have to create brand new inbound marketing tactics out of whole cloth. Rather, you'll simply need to fine-tune what you already have, with an eye towards buyer persona needs, compelling content, and rigorous measurement.
What do you think? What other to-dos are on your inbound marketing spring cleaning list?
Need help in creating an effective end-to-end inbound marketing strategy? Contact us for a free consultation.