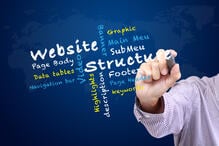 We recently looked at an insightful Hubspot piece illustrating the things that marketing departments can cut from their to-do list. We predict it came as good news for many marketing managers who simply can't keep up with all the demands commanding their attention.
One of the unnecessary items on the list was "Your Unneeded Website Redesign." HubSpot argued that large-scale Web updates can be unnecessary and expensive, particularly for smaller firms and those that don't need robust e-commerce platforms. Their suggestion was to take an incremental approach and conduct A/B testing to determine which components need tweaking. Makes sense to us.
With that as context, we'd like to explore this topic a little bit further, spelling out quick and practical Website update tips for when you don't have the time or resources for a full redesign. Here are just a few:
Remember the power of navigation. Fundamentally speaking, Websites haven't changed in the past 25 years. The goal remains the same: to give visitors a seamless and intuitive experience whereby they quickly find what they need. Revisit your site with a critical eye, identifying and eliminating any obstacles to optimal end-user navigation.
Trim the fat. Believe it or not, you can probably cut 25% of your existing text. This "less is more" mantra becomes even more important when you consider that most of your customers will be accessing your site via a mobile device. Which reminds us...
Design with mobile in mind. Better yet, design with responsive design in mind. It's the Web design concept in which content is optimized across all devices and screen sizes. Responsive design ensures that leads won't get frustrated by your site if it improperly loads on an iPhone or tablet. And speaking of design...
Embrace uniform(ish) design across channels. Your brand has a Website plus a Facebook, Twitter, and Pinterest profile. Make sure all of these platforms are uniform in terms of branding, logo, graphics, and color scheme. Of course, you'll never make each channel completely uniform, but by getting the basics right you'll minimize the risk of visitor confusion.
Toss the lame graphics. Did you notice that your home page photo is four years old? Trash it and upload a new set of vibrant and engaging high-quality photos.
Revisit content placement. Why, for example, are those five fantastic customer testimonials buried at the bottom of your About Us page? Make them more visible.
Spruce up your CTAs. Your site probably has some CTAs, especially on your Contact Us page. Make sure you're getting the most out of them
by revisiting their design, the copy, and the location on the page.
Now we'd like your thoughts. Do you agree with Hubspot that a full-blown Website redesign is often unnecessary? We listed seven Website update tips for companies unwilling to go the total-redesign route. What did we forget to mention?