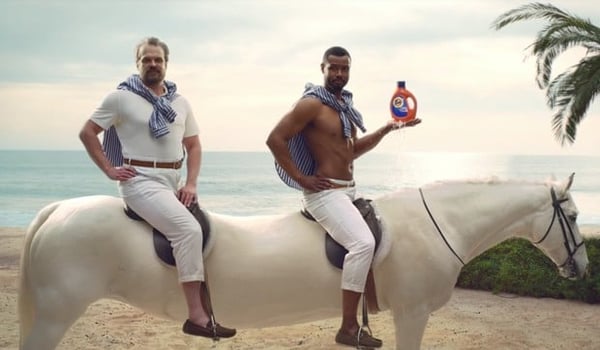 With over 100 million viewers tuning it, the Super Bowl is one of the largest sporting events in the world. It comes as no surprise that earning a highly coveted commercial spot comes with a staggering price tag of $4 million. Super Bowl commercials are a monolithic production with a great deal of pressure riding on them to stand out and make a statement; a cultural phenomenon.This year was no exception- we witnessed top-notch Super Bowl commercials from Tide, Amazon, and Tourism Australia staring celebrities such as Morgan Freeman, David Harbour, Keanu Reeves, and Cardi B. Palmer Ad Agency was inspired by this year's commercials and decided compile our top 5 favorite in this blog post.
---
Tide "Every Super Bowl Commercial"
The Tide commercial was amongst the top-performing Super Bowl advertising campaigns this year. With their clever approach showcasing Tide as "every Super Bowl commercial" they proved themselves leaders in both strategic and creative thought. The commercial stars David Harbour, the actor widely known for his role as Police Chief Jim Hopper in Stranger Things. Throughout the ad, Tide parodied various commercials from Old Spice to Lincoln. The approach was that every commercial that has someone wearing clean clothes must be an unintentional Tide ad. Seemingly simple, the commercial is undeniably ingenious.
Skittles "Exclusive the Rainbow"
Skittles is known for their quirky and out-there commercials, and this year's Super Bowl spot proved no different. In fact, if it is even possible, Skittles went above and beyond in their eccentric approach. This time around, as Matt Motei, VP of Confections at Mars put it, "This year skittles is making the most exclusive Super Bowl ad ever." Skittles created a 60-second commercial for the Super Bowl, but they only showed one person. Luckily, Skittles released a series of teaser trailers featuring David Schwimmer as a variety of characters in peculiar scenarios.
Tourism Australia "Dundee"
Tourism Australia had one of the most engaging productions this year. Viewers were lead to believe that the ad was a trailer for an upcoming reboot of the 1986 film, Crocodile Dundee, staring actors Danny McBride and Chris Hemsworth. The "trailer" is very compelling, and leaves viewers intrigued for the upcoming "film". Toward the end of the commercial,In a plot twist, McBride reveals that the trailer is act an ad for Tourism Australia. What makes the ad so great is the subtleness of it all. The fact that it isn't typical in-your-face advertising, makes it all the more endearing and approachable.
Amazon Alexa "Alexa Loses Her Voice"
Amazon nailed it with their series of ads for Amazon Alexa. The commercial centers around Alexa losing her voice, so of course celebrities such as Gordon Ramsey, Cardi B, and Rebel Wilson are brought in as a substitute for Alexa for the time being. While the commercial is certainly entertaining, especially with well known celebrities being brought in, the message is what really makes the ad stand out. The underlying premise here is that Alexa is an all-knowing AI system that significantly helps us in our day to day lives. When Alexa is gone, we truly realize how much we need "her".
Toyota "We're All One Team"
Toyota's "We're All One Team" commercial was not on everyones list of top commercials but it certainly made ours. We think that Toyota did a great job of being funny and entertaining while reaching out to the masses by including religious leaders for different religions. We liked Toyota's message of America being an all inclusive place and lets be honest they did an amazing job of showing off that beautiful Toyota Tundra.
These commercials where the ones that stood out to us out of all the other super bowl commercials. Overall, these brands achieved the ability to resonate with audiences around the country. From Tide to Toyota, they were able to spark conversation, made headlines, and maintain their relevancy. The creativity of these ads have raised the bar and left us excited for the thought and creativity that will be put into creating next years ads.