Our clients often ask us "Why should our company create a Pinterest page?" The answer is simple: follow the money.
Research indicates that Pinterest users spend more money than users on other social networks — almost twice the amount spent by Facebook users and triple the amount from Twitter users. Of course, the mere existence of a Pinterest account doesn't automatically translate into success. What will help is a focused strategy, an eye towards intelligent pining, and consistent measurement.
With that in mind, we hereby present some best practices for your Pinterest page.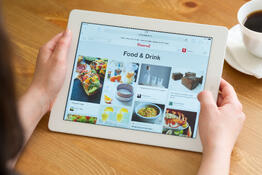 Strategy
Who's your target audience? Pinterest users are predominantly female, at 68 percent. That said, Pinterest can work for brands selling products — like cars or electronics— that thrive in the medium of photography.
Have an over-arching theme in mind. The highly visual element of Pinterest provides all sorts of opportunities for you to promote or expand your brand. Ask yourself: what do you want this page to do? Generate leads? Market a lifestyle? Inspire viewers? Of course, the answer can be "all of the above" just make sure the nitty-gritty of managing your profile adheres to these goals.
Your Pinterest page doesn't exist in a vacuum. Make sure you have Pinterest button on your site, blog and links from other social sites.
Content
A picture is worth a thousand words. More than any other platform, Pinterest is built on compelling images. Make sure you have a pipeline of images that speak to your buyer personas. If you're a retailer and your target audience is women, embrace photos that pertain to fashion, foods, do-it-yourself home furnishing, arts and crafts, weddings, etc.
Diversity. Create a variety of boards that speak to your brand's depth and breadth. Not all need to be commercially-oriented; in fact, we suggest creating boards that inspire or convey an "experience" as opposed to selling products.
Assist your followers. Also create boards that provide helpful guidance and tips to your followers.
Boards, pins, and linking
Not all pins are equal. For example, tall images get repined more than shorter ones; reddish-oranges images get 2x the repins as blueish ones; brand images without faces get 23 percent more repins than those with faces; and photos with medium lightness are repinned 20x more than very dark images. (More tips here.)
Don't over-do it with photos. This is a classic case where "less is more." We suggest limiting boards to 5-10 photos.
Make sure to link, wherever possible, to landing pages. Think of your photos as a means to the end of greater customer engagement.
Place hashtags and shortened links in captions. Again, less is more. Salesfore, for example, found that tweets with one or two hashtags generate 21 percent higher engagement rates than those with three or more. Admittedly, the stat involves Twitter, but the logic remains the same: too many hashtags confuse viewers.
Employ "rich pins." Pinterest has five types of "rich pins" which include details of a pin's category. These pins include products, recipes, movies, articles, and "place pins." The latter, for example, is a new map tool that allows users to add Foursquare data to new or previously-pinned images, thereby tying them to a physical location.
Ongoing Management
Setting up your Pinterest page is only the first step. Success comes from disciplined management, so keep the following tips in mind:
Stay engaged with your followers. Share useful content, leave comments, solicit feedback, and respond to questions or comments.
Follow other profiles and repin. This approach not only compels you to find new pages (and possible customers) but it can help generate traffic to your page.
Track your performance. There are many tools out there to help you accomplish this, including Analytics Clicks (for verified business accounts) within Pinterest, shortened url clicks, and third-party tools like Pinfluencer.
All of these tips are certainly helpful, but seeing real-live brands who excel on Pinerest is even more useful. That's why we encourage you to check out our analysis of five companies who really "get" Pinterest. After all, nothing beats the value of real-world experience.
Actually, that reminds us: which among you, our loyal readers, have experience with the platform? What would be some best practices for your Pinterest page that you could share? What are your biggest challenges on Pinterest?
Social media is only one piece in the lead generation puzzle. To get the full picture, download our Lead Generation eBook.