If you (or your boss, for that matter) has any doubts about the value of search engine optimization (SEO), consider this enormous figure: 800 percent. According to recent research, sites that show up on the first page of Google Search perform 800% better than those on page two.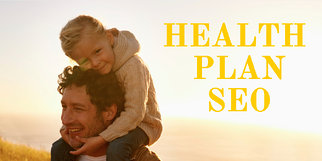 This figure is even more telling for marketing managers looking to build out their health plan SEO strategy. That's because with the advent of the ACA, more and more consumers are shopping around for health plans, and the first place they go is usually Google Search. If your site shows up on the first page, you're in luck. If it doesn't, you'll be missing out on countless leads. SEO is an ever-evolving terrain, and rather than try to outsmart Google's algorithm, we suggest marketing teams roll out a health plan SEO strategy where you:
Revisit Keywords. Go to Google Keyword Planner and search for your desired keyword. You'll be able to see things like average monthly search volume and the number of times a keyword is searched. The rule of thumb here is to pick keywords that are searched the most and have minimal competition. One way to do this is to experiment with geo-targeted keywords. After all, you'll have less competition selecting the keywords "Covered California health plan Fresno" than "health plan California."
Optimize Your Architecture. Effective SEO is built on compelling content and a strong web architecture. To the latter, create a proper sitemap for your site to make it easier for search engine "spiders" to "crawl."
Roll Out Content. Create an editorial calendar that operationalizes things like suggested blog content, frequency, and keywords to include. The content should speak to the needs of your leads and customers, looking at how to navigate the health plan selection process, preventative care, and other articles regarding health and fitness. For example, if a majority of your customers and leads are Baby Boomers, post articles on staying healthy in retirement or FAQs about Medicare.
Promote Your Content. When followers share your content on social media, search algorithms can reward the publisher with higher search results. These "social shares" show that real, live humans are responding to your content. Also experiment with "link-building." This technique has gotten a bad rap as its become synonymous with spamming, and while it shouldn't be your first order of business, you may want to take a closer look at certain techniques once the fundamentals are set up.
Measure Performance. Check Google Analytics to gain insight into most visited pages, traffic trends, and click-through-rates. You'll detect patterns and if these patters prove effective, you can replicate them elsewhere across your site.
What do you think? What are the key components of a health plan SEO strategy? What elements did we neglect to mention?