If your car dealership has a Twitter account, then you probably know the platform can be a great tool for promoting your business. That said, many dealers fail to fully leverage what is perhaps the easiest functionality available to them on Twitter: the hashtag. Today we'd like to look at how you can create a hashtag and provide a helpful list of relevant hashtags for your dealership.
First, however, let's clear up any misconceptions about what a hashtag is (apologies if this is old news to some of you.) Simply put, people use hashtags to categorize Tweets by keywords. Clicking on a hashtagged word in any message shows you all other Tweets marked with that keyword. Hashtags can occur anywhere in the Tweet – at the beginning, middle or end.
With that out of the way, you likely know how to use hashtags in your Tweet, but if you need a refresher, we'll make it brief. To create a hashtag, simply enter the #symbol and then a word. It's that easy!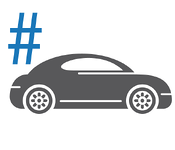 So what about the hashtags themselves? Well, at the most fundamental level, you should create the following hashtags:
For your dealership, like #BillJohnsonChevrolet.
Location-related, like #StocktonChevrolet.
Those that are creative or unique to your dealership. For example, if you're dealership is known for it's no-hassle sales, create #NoHassleAutoSales.
Now in creating these hashtags you may find that others have beaten you to the punch. That's ok. You can still use the hashtag with an added benefit: it will broaden your exposure as all Tweets with the same hashtag can be located in the same place.
Some dealership hashtags you can piggy-back on include:
Manufacturer-related hashtags like #Ford, #Chevy, #Toyota, etc.
Model-related hashtags (e.g. #ToyotaTundra, #FordExplorer)
Hashtags that pertain to a specific kind of customer purchase like #newride, #tradein, etc.
Specific promotions like #FordTruckMonth
#AutoMarketing - a great repository of marketing ideas and tips for the auto industry and dealerships
Non-automotive ones that nonetheless get your brand out there in your city, like, #HappyNewYearSacramento
Make sure to check the "Trending" column in your profile. "Trending" shows which hashtags are popular. If there's a solid business case to use that hashtag, go for it.
If you need another reason to use hashtags, here's one: they work. According to AutoDealerPeople, Tweets that contain one or more hashtags are 55% more likely to be retweeted (or shared) than those that don't. Tweets that use up to 2 hashtags have a 21% higher engagement rate.
Looking to generate more sales and maximize your ROI? Download our Auto eBook!