If you're using Pinterest or thinking about using it, odds are you have some preconceptions. You think it is growing in popularity (true). You think it is primarily used by females (also true). But did you know that Pinterest users spend more money than users on other social networks? If you're intrigued by the old adage "follow the money," you owe it to yourself to give Pinterest a closer look.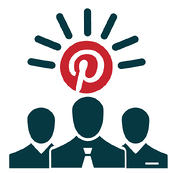 This, of course, begs the question, "How do we generate leads on Pinterest?" It's a great question, and it's the topic of today's post. For simplicity's sake — and to make your life as a marketing manager easier — we'll look at seven Pinterest lead generation tips through the lens of a basic customer purchasing funnel:
Awareness: In this first stage, you're simply creating pins that introduce your brand to users. For example, we're thinking of pins like:
1. Show off your employees. If you're a small business like a neighborhood bank, you'll want to dial up the "neighborhood" feel. After all, not all pins have to be explicitly commercial. Variations of this approach include pins around your location, satisfied customers or points of interest in your "neighborhood" like friendly local businesses.
2. White papers or ebooks. Part of the awareness phase is educating leads and portraying yourself as an expert in your field. For example, if you're a solar company, something like "7 Ways Solar Panels Save a California Family Money" would be useful. Make sure the image is linked to a logical landing page like the white paper summary on your Website.
3. Build connections through content. Perhaps the most important element of the Awareness phase is showing visitors that you understand their needs and concerns. Fortunately, you'll have your buyer personas handy, so identify content that best maps with these demographic profiles. Let's say you're trying to reach working mothers. Rather than pose a question in text form, pin a relevant infographic (like this one, for example.) It's a great way to build trust and a connection with visitors.
Interest: Here you simply want to get visitors interested in your brand and products.
4. Provide practical advice. Companies that use Pinterest effectively empower and educate visitors. And while the platform is particularly attuned to areas like food, cooking, and fashion, this lesson can nonetheless apply to small business in other industries. Give users advice around how to do something like a "DIY Guide to Installing a Solar Panel," making sure it's tied to a visually-compelling pin. Doing so will build further interest among visitors.
Desire: Now thing are heating up. Most purchases hinge on one of two factors: the customer's perceived value or price point. Address these factors and your lead will be more likely to want the product. Therefore, at this "desire stage" your pins must address both elements. We suggest:
5. Pin a popular product. By pinning your best-seller, you'll get comments and repins from satisfied customers. This will, in turn, reflect the inherent value of your product.
6. Effectively describe your product. A photo of a product won't convey price point unless you create a more complex graphic with the price included. Instead of doing that, simply include the price of the product in your pin's description. It's here you can also fall back on more marketing-oriented language (e.g. "Now only $19.99!") The description should be no longer than 200 characters.
Action: Here's the final step, getting customers to reach for their wallets.
7. Link to a landing page. Post images of that take visitors directly to a landing page, like, a specific product page. For a simple example, here is Target's Pinterest page for a pillow. Click on the image, and you'll be taken to the product's page on target.com. Furthermore, if you refer back to the product's Pinterest page, they also include text — "See this on Target" — that also takes visitors to the same landing page, essentially doubling the chances of redirecting Pinterest users.
For the uninitiated, Pinterest can seem mildly intimidating. But fear not: the nuts and bolts of Pinterest lead generation is quite simple, and that's because your primary tools are the pins. Choose your pins wisely and make sure to have a desired customer action in mind. Soon enough you may find yourself with a new and profitable sales channel.
Looking for more leads on social media? Download our Lead Generation eBook.