Are your company's social media pages eerily quiet these days? Maybe it's time for a social media contest. They're fun, easy to set up and can generate some much-needed chatter for your brand. Today we'd like to pass along some tips for rolling out a successful social media contest.
1. Spell out your objectives. What do you hope to accomplish with the contest? Generate leads? Collect email addresses? Get 200 "Likes?" Increase followers? Or just create a buzz? The answer to this question will influence how the contest is designed.
2. Set a budget. If you're simply posting the contest on Facebook, you may be able to generate enough interest through free channels like blogs and other social media sites. However, you may want to pay for an ad on Facebook or consider other advertising options for your competition.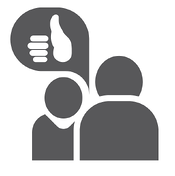 3. Plan beyond the numbers. Sure, it's great to generate more followers, but social media contests also provide a great opportunity to engage in things like customer research. For example, let's say you're an online retailer and a contest prize is a $50 gift certificate. Ask followers to post a picture of the product they'd purchase with the money. This does two things: one, it engages your followers; and two, it provides you with added insights into customer preferences.
4. Pick a social media channel. Where will this contest be based - Facebook, Twitter, Pinterest? Don't be afraid to borrow ideas from other successful contests.
5. Adhere to applicable contest guidelines on the social media platform. Rules vary by social media network. For example, Facebook just rolled out new contest and promotion rules that are a must-read. In short, businesses can now run contests on their own Timeline but they need to adhere to a new set of guidelines in the process. For example, businesses are responsible for setting the official rules, terms and eligibility requirements, and obtaining any regulatory approvals (if applicable.)
6. Pick a contest duration. How long will the contest last? There is no "ideal" timeframe for your contest - some may be more conducive to a 21-day window, while others could be as little as 24 hours. Experiment and see what works best.
7. Consider cross-promotional possibilities. If you're a brick-and-mortar outlet, your contest can require followers to show up at a store. You can also plan a contest in conjunction with an event, whether it's a holiday, the Oscars, the first day of Spring, etc.
8. Provide users with clear instructions. Make sure the copy describing the contest is explicit so followers know precisely what to do to enter. Remind them that it's easy and free to enter the contenst, and encourage them to share it with friends. Also reach out personally to the "influencers" in your networks - the partners, customers, and businesses who will share the contest on your behalf.
Now you're set to launch! Make sure to keep the social media momentum going throughout the course of the contest and tweak the message as needed. At the conclusion of the sweepstakes, the real fun begins when you can pull information from applicants and see if you met your objectives, reached new followers and ultimately, turned a profit. Build on these lessons to make future contests even better.
Want more tips for generating leads? Download our Lead Generation eBook.