When you think it about it, it seems like social media - and Facebook in particular - is custom-built for auto dealerships. You have a business model built on customer referrals and word-of-mouth. You're selling a product that people tend to love and feel passionate about and there's no shortage of excellent content pertaining to new models, industry trends and customer surveys.
Given all of these factors, isn't it time your dealership doubled its fans on Facebook? It really isn't that much work, and the payoff - greater brand awareness, new customers and a larger online presence - is certainly worth it. We'd like to pass along a few helpful tips to help you grow your auto Facebook fan base!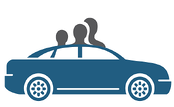 Optimize your dealership's profile page. Make sure it includes a great profile picture, choose the appropriate category, properly name the page and put up posts ranging from 100-250 characters andaccompanied with some photos (which generate 120% more engagement than posts with no photos.)
Invite people to like your page. Ask existing customers, your personal friends, and e-mail contacts. You may be surprised to see how many people you know don't actually like your dealership's page.
Humanize your dealership. Buying a car, of course, is a highly personal experience predicated on trust. Make sure your Facebook profile includes photos of dealers along with some biographical information. Don't be shy to re-post positive posts from satisfied customers.
Have your "voice" reflect your brand. You, more than anyone, know your target demographic and what your brand aims to communicate. Make sure your tone and posting "voice" reflects this. After all, the topics that resonate with would-be Mercedes customers may differ than those looking for a Honda Civic.
Post compelling content on a periodic basis. Develop a simple publishing schedule whereby you post something two to three times a week. Build anticipation for new vehicle launches by posting photos and videos. Create fan-only sales and offers. Give shout-outs to other members of your extended network. This will increase the chances followers will share the post and in turn, bring it to the attention of new customers. Most importantly, don't overwhelm followers with commercially-oriented posts. Mix it up. And if you fear writer's block, fear not. There are tons of ways to create great content out there (and you can always outsource this role to a third party.)
Ask followers to help. Have a cool charity event coming up? Ask followers to share it with their friends.
Pay for an ad. Totally optional, of course, but this will certainly expand the number of people who'll see your page. With Facebook's ad platform you can target the ad towards people in your local area as well as specific demographics.
Now we know what you're thinking: these are helpful tips, but wouldn't it be even better if Facebook themselves actually posted some guidance to help you grow your auto Facebook fan base? Guess what. They did, and you can check it out
here.
Looking for more tips to double your Facebook "Likes?" Contact us for a free consultation.