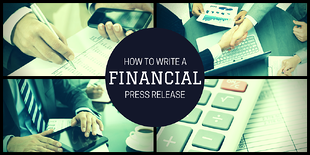 The financial press release is a lot like the fax machine of the modern marketing world. In a hip, social media-driven landscape filled with Likes, Tweets, and viral videos, sometimes you still need to send a fax. And the same can be said about the press release: a relic of another time, but a marketing approach that can nonetheless deliver value to certain companies.
Why is that? For starters, press releases can help your marketing team promote
your brand's
expertise and professionalism — and that counts for something in the financial services world. Similarly, the tone of press releases — newsworthy and not overly commercial — are also aligned to your brand development goals. Lastly, the release can be effectively marketed on
social media
and other inbound channels.
Convinced? Maybe. Either way, we'll err on the side of caution — here's how to write a financial press release.
First off, of course, you need to choose your story. Be judicious here; as much as it's nice that Bob Carlson got promoted to senior VP, that type of news won't serve the higher goal of attracting top-of-funnel leads. On the other hand, creating a press release around a charity outing serves a purpose by humanizing your brand. Here's another idea. Poll your customers, crunch the numbers, and create a press release based on your findings. You're generating your own news and creating a springboard from which to show your brand's expertise.
For example, Baby Boomers, as we all know, are set to retire en masse. But are they ready? Query clients about their expectations for retirement. Are they comfortable? Will they work beyond 65? What's their average savings in IRAs or 401(k) s? Take this data and run with it.
Next up, create an attention-grabbing title. You'll need to walk a fine line here. Make the title interesting but not sensational. Selecting your title first is an old journalism trick: by doing so, you'll consciously provide a framework for the body of the piece. Once the title is set, write the body of the release following this format:
* Reiterate the headline with a contextual byline: "Bank of Stockton Finds 35% of Clients are 'Not Ready' For Retirement. Survey Finds The Average Non-Social Security Savings For a Typical Northern California Household Totals $150,000."
* Frame the headline as narrative and underscore why the news is important: "With millions of Baby Boomers set to retire in the next decade, many are looking to strengthen their retirement accounts."
* Don't resort to scare tactics: "Of those who feel they are 'not ready,' a majority nonetheless expect to voluntarily work beyond 65, while others have sufficient funds but not enough to sustain a 'comfortable' lifestyle."
* Insert quotes from a spokesperson that may include commentary. "'Baby Boomers will live longer and retire later,' said Bank of Stockton retirement advisor Bill Jennings. 'And that's good news, but it also underscores that many retirees may need more money than initially expected.'"
From a stylistic standpoint, make the text crisp, informative, objective, and punchy. Refrain from long sentences or unnecessary tangents. Remember, you're promoting news and your audience — blogs, LinkedIn followers, content aggregators — don't want to be sold too. To that end, we suggest resisting the urge to include an obvious call-to-action at the end of the press release. Instead, in the spirit of good inbound marketing principles…
Make sure outlets can contact you. We suggest including, "For press inquiries, contact John Smith," along with an e-mail address and telephone number in the upper-right hand corner of the release.
What do you think are the key ingredients to a financial press release? Do you find financial press releases to be relevant and valuable? Why or why not?