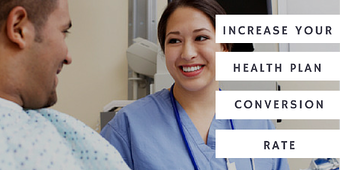 The rollout of the Affordable Care Act means thousands of Americans will now be shopping online for health insurance. That's thousands of new customers just waiting to sign up — and that's good news for everyone.
The challenge facing health care providers is how to get them to sign up in a crowded market. Furthermore, buying health insurance is a bit different than shopping for shoes on Amazon. Carriers need to educate policyholders, many of whom are new to the process.
So how can you effectively boost your health plan conversion rate? Well, we looked at two California health care providers who'll remain nameless and extracted some findings. And here they are.
Keep it simple. This is an obvious lesson, but one that is surprisingly lost on many carriers. The most effective sites minimize friction on their home page and make it easy for visitors to quickly get a quote. The site that impressed us the most — we'll call them Carrier A — has a bold "Get a Quote" button instantly visible. The one we didn't like so much — we'll call them Carrier B — had a more muddled home page, providing visitors with seven different tabs, many of which, like "Downloadable Forms and Documents," can distract and confuse visitors.
Customize the experience. Visitors are used to the Amazon experience of online shopping. When they log on to the e-commerce site, they expect a smooth experience attuned to their past purchases and product interests. Of course, you can't instantly replicate this experience for first-time viewers, but you can certainly extract more information from the visitor to serve two goals: one, attaining contact information for follow-up calls or e-mails, and, two, as we'll see in the next step, presenting customized health plans based on their zip code, salary, subsidies, and other ACA-related information.
Give them (a reasonable amount of) choices. In this case, let's first look at Carrier B. Their home page included a "View All Our Plans" tab, so we clicked it. We were taken to a page with five separate plans, spelling out deductibles, coinsurance rates, office visits, prescription drug information, and more. We scrolled down the page and our eyes began to glaze over. The copious amount of text and numbers began to blur together. Just imagine the first-time visitor's experience. And the prognosis (get it?) wasn't so good for the experienced visitor either; only when you scroll to the very bottom of the page will you see a prompt saying, "Know What You're Looking For? Apply Here."
Now let's look at Carrier A. Thanks to ACA, applicants can get subsidies based on their salary, household, and other factors, and Carrier A acknowledges this reality. Upon clicking the "Get a Quote" we were taken to a questionnaire in a separate window. The questionnaire was brief and intuitive. It instantly calculated the subsidy and a few seconds later we were looking at three available plans, sorted by their monthly premium. Easy.
Get the "big things" right first. It's important to acknowledge that many first-timer visitors will likely purchase the cheapest plan available. If given the choice between a $242/month policy versus $550/month, you'd do the same. And as we all know, cheaper isn't always better. But given the high risk of visitor confusion and shopping cart abandonment, it's important to get the "big things" right first — namely get them to at least sign up. Carrier A accomplished this by showing three plans with the monthly premium, from lowest to highest. Your customer service team can then reach out if it becomes apparent that a better plan is available (something your policy holder will appreciate). Which brings us to our last point...
Make help instantly available. Both carriers were successful in this regard, having a customer service contact number front and center on sidebars.
What do you think? How is your company working to increase health plan conversion rates? How does the health plan "buyer journey" differ from, say, a traditional online shopping one? How are they similar?