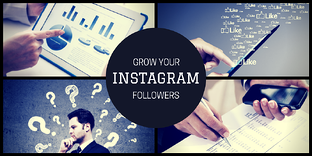 Spoiler alert: While we wish we could say we had a secret trick to quadruple your Instagram followers overnight, there's no magic ingredient to organically boost your presence on the photo-sharing network. Instead, "slow and steady" wins the race. If you consistently post photos that adhere to some important considerations — which we'll talk about in a second — you'll see your Instagram marketing efforts pay dividends.
Let's get right to it. Some high-level rules of thumb to keep in mind include:

* Above all else, extend your brand. Instagram can effectively grow your brand, especially if you resist the urge to use it as a sales channel. This means photos that convey an experience. In other words, if you sell running shoes, don't post photos of running shoes. Post photos of runners underneath a setting sun in Yosemite Valley.

* Viewers respond when marketers attach a human face to their brand. Post photos of customers, staff, and people who inspire you. Show the inner workings of your business. Put up photos of a barrista making an espresso or give followers a head's up on new products or service. Make the viewer feel like they are part of your team. That's much nicer, isn't it?

* Post quality images. This may sound obvious, but thanks to Instagram's cool filters, some brands think that any altered photo is worthy of mass consumption. This isn't necessarily true. It's better to post a select amount of high-quality, compelling photos instead of hundreds of boring or ugly ones.

* Make the most out of events. Events provide a great opportunity to show your brand in action while also bringing customers or industry partners together. Add it up, and it's photography gold. Along these lines, HubSpot recently published a great piece on how to effectively use Instagram at trade shows.
If you adhere to the aforementioned rules, you'll boost the chances that the photos will resonate with viewers. The next step is to encourage followers to share their own photos. After all, you want your presence to be a collaborative one; the more visitors share, the more likely you'll reach new people.

At the same time, closely monitor chatter, comments, and commentary on your profile. Respond to comments, throw questions back out to the network, and listen to what people are saying. Also promote photos on other social media channels. You'll inevitably generate more views if you link Instagram photos to your other social media sites.

Lastly, embrace hashtags and use them wisely. Keep an eye on hashtags that are trending — a tool called Websta can help in this regard — so users who follow the hashtags may Like & interact with your posts when they see them in the feed.
What do you think? Has your brand seen the value of Instagram marketing? What do you think is the key ingredient to organically growing followers?
Need more help in building your social strategy? Contact us for a free consultation.