The emergence of inbound marketing has altered many elements of the classic sales approach. Take the customer purchasing funnel, for example. At the "top of the funnel," a firm's primary goal is to generate awareness of their brand. Previously, companies would accomplish this by traditional "outbound" marketing techniques - cold calls, sales pamphlets, mailers, etc. "Inbound" marketing, on the other hand, argues that the best way to attract customers is to promote your business by providing useful and powerful content. In other words, the goal is the the same - financial firms still need to create awareness at the top of the funnel -- but the approach is different.
The good news is that financial firms reaching out to customers at the beginning of the acquisition process have multiple financial content offers at their disposal. They include:
eBooks - One of the best ways to promote your business and develop a trusted financial brand is to portray yourselves as experts in a field. Of course, you don't need to brag; rather produce intelligent and timely content that resonates with banking customers. All it takes is repurposing the work you are already doing: eBooks can include "10 Ways to Save For Retirement," "FAQs About Auto Refinancing," etc.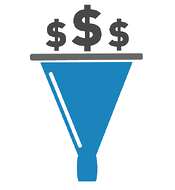 Videos - Videos can also reflect your firm's expertise with the added benefit that the media itself can be easily shared on social networks. They also go along way to humanize your staff (and by extension, your brand) in the eyes of viewers.
White Papers - White papers are a somewhat more academic version of eBooks and may be more relevant for certain audience segments. For example, you can provide white papers attuned to a particularly financially-savvy buyer demographic, like the small business owner.
Newsletter - Also give leads the opportunity to sign up for a periodic email newsletter that, once again, reflects your brand's experience and expertise.
Free Consultations - Make it abundantly clear on your website and social media channels that leads can easily contact a staff member for a free consultation.
Testimonials - Pictures of videos of satisfied customers telling their story goes a long way to connect prospects with your brand.
Blogs and Social Media - Blogs are a great way to provide practical information for prospects in a bite-size fashion. Of course, you can write your own posts - which, once again, isn't that difficult as you can repackage existing material - or pass along advice from other outlets like Forbes, Wall Street Journal, etc. Also make sure to promote your posts on social media to further increase your exposure.
More than any other industry, the financial services sector is predicated on trust and not pithy sales pitches. Which is why the inbound marketing holds so much potential for banks: they can efficiently expand their brand, convey trust and reach "top of the funnel" customers by rolling out financial content offers that resonate with prospects.
Looking to make your blog a powerful lead-acquisition channel? Download our Business Blogging eBook.