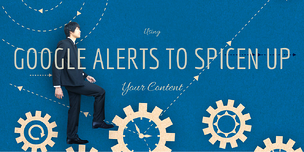 Despite their best efforts to turn Google+ into a viable competitor of Facebook, people rarely associate the Mountain View search giant with the world of social media. That would be a mistake. Google's news aggregation tool, Google Alerts, is a social media marketing dream come true. Within a few seconds, you can create seemingly limitless pipeline of compelling content delivered to your inbox. Your days of searching the Web are over. Now the content comes to you.
It's exciting stuff because it provides marketers with the key ingredient to their inbound marketing strategy: compelling content. With that in mind, we'd like to provide some tips for using Google Alerts to spice up your social content.
1. Set up an alert. Forgive us if this is yesterday's news — if so, feel free to skip ahead to the next step — but we have to include it. Sign into your Google account and go to https://www.google.com/alerts. At the top of the screen you'll see "Create an alert about…" Now, if you're familiar with things like SEO and keywords, you'll probably have a good idea of what you're looking for. The trick is to keep the search terms broad enough that it will capture good content but not too broad such that you'll be sifting through thousands of results every day.
For our purposes, we'll assume the role of a solar provider in California. We can create an alert called "california solar," which, naturally, will capture news pertaining to the solar-related developments within the state. If you were to set up this alert, you'd immediately get results like the Sacramento Bee's "California Adds Nearly 7,500 Solar Jobs" to Al-Jazeera America's "World's Largest Solar Plant Opens in California." Each of these articles can be easily repurposed for a blog.
Then again, you could also set up a basic alert like "residential solar." This will naturally capture more information. Our suggestion is to experiment with each approach — broad versus limited — while remembering that it's always better to have too much cool content than too little.
2. Know your options. Just before you create the alert, you'll be prompted to customize it. Click on the "Show options" arrow and select the alert frequency, sources (it defaults to "Automatic"), language, region, how many (it defaults to "Only the best results"), and the delivery email address.
3. Manage your alerts. Now keep an eye on your inbox as the content will start to pour in. For industries like solar, it can be overwhelming, so try to have a process in place to manage it all. It can be as simple as "starring" the Alert or placing them in an "Alert" folder. At some point you'll need to go through each e-mail alert and perhaps as many as two dozen articles. Select the most promising pieces, save the urls in a separate document, and delete the alert.
Once you've set up industry-specific alerts, you can then set up other types of alerts to generate equally compelling content. Set up an alert relating to your brand and see what people are saying about it. Monitor your competitors. Follow trending stories or specific individuals applicable to your industry and brand. Set up an alert for a specific piece of content to see if anyone shared or comment on it. Each of these tactics can produce exciting and interesting content.
Lastly, if you want to get highly technical, check this article out. It talks about more advanced formulas that you can employ in Alerts such as "regional based monitoring."
What do you think? Do you find Google Alerts to be a helpful tool for your social media marketing strategy?