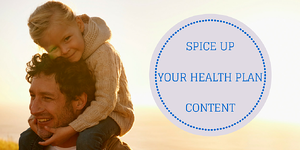 We admit that comparing health plans or reading up on deductibles isn't exactly fun. But that doesn't mean you can take some steps to make blogging for health plans more pleasant for your writers, customers, and leads. Here are some tips.
Experiment with catchy headlines
. Again, there's only so many ways to make the "silver versus platinum plan" decision exciting. Nonetheless, there's ample opportunity to create compelling headlines that engage readers.
HubSpot
, for example, lists
seven ways
to do this, ranging from the "Know It All" headline to the "The Instigator" where the headline tries to stir up debate.
Think outside the "health plan" box. Not all posts have to be about the ins and outs of health plans. In fact, we argue that a majority of your posts should address things wholly unrelated to health plan details — things like customer health, fitness, preventative care, and other health-related concerns that will resonate with your readership and buyer personas. For example, a segment of your customer base will be over 65. Post articles about reducing cholesterol, the importance of exercise, tips for a health retirement — you get the point. Fortunately, there's no shortage of content along these lines; simply set up a Google Alert and have relevant articles sent to your inbox.
Think outside the "buyer persona" box. We admit, this may sound sacrilegious, but hear us out. As a health care provider, your buyer personas list doesn't include eight-year old children. They're not exactly in the market for purchasing health plans. But their parents most certainly are, and they're also deeply concerned about their children's' well-being. Therefore, post content that speak to this desire. We're thinking posts like, "Healthy Eating Tips For Your Kids," "Keeping Your Kids Safe On the Soccer Field," and "Understanding Symptoms of Anxiety in Children."
Make it look nice. Some blogs come across as boring, stale, and just plain ugly. Take the extra time to make sure your interface adheres to the principles of effective graphic design: compelling colors, vibrant photos, easy navigability, selective use of widgets, and a "Contact Us" link.
Include cool videos. Mix up your content. In addition to text-based posts, embed videos that speak to reader concerns. For example, in keeping with the topic of healthy living, post videos showing how to prepare healthy meals or stretching techniques for people who sit in cubicles all day.
Profile a guest blogger. What are common questions surrounding the tax implications of the Affordable Care Act? Well, you can certainly answer those questions, but why not have a local accountant or ACA rep answer them instead? It will present a new face to your readership and show that you work closely with community health professionals.
What do you think? What are other tactics for making blogging for health plans more interesting and engaging?