Most businesses make a common mistake of focusing too much on digital marketing strategies at the expense of traditional marketing. While it is true that digital marketing is indispensable in capturing the ever-growing online marketplace, concentrating too much on one marketing methodology can limit your capacity to reach your target market effectively. It can also limit your branding opportunities.
To stay ahead of your competition, you need to use all channels that make sense for your business. For many companies, this means using both digital and traditional marketing.
For instance, print media streams can come in handy to direct your audience to your website and social media platforms such as Facebook, Twitter and online blogs. Secondly, flyers may contain QR codes to enable your customers to access current promotions or even special offers at your business. On the other hand, television and radio adverts will not only put your brand in the spotlight but also attract the attention of an existing large audience and direct traffic to your website.
Let's delve deeper and explore why your digital business should still consider traditional marketing.
1. Traditional Marketing Supplements Brand Exposure
Despite the fact that many people go online first to find products and services, a good number (33%) still only perform research offline:
Our latest survey findings show that 67% of consumers say they research products online — at least occasionally — before shopping for them in brick-and-mortar stores. What's more, one in five shoppers (19%) say doing pre-shopping research on the web is a must. Just a third (33%) of consumers report they never do online research first before heading to a store.
Traditional marketing comes to your rescue by supplementing your business exposure. It lets you make up for all the prospective consumers you may have missed out on when doing digital marketing.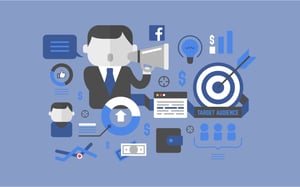 2. Audience Reach Can Be Quite Large With Traditional
Television, radio and billboards are all part and parcel of traditional mass media; and they help you reach a larger population across various demographics. For example, 93% of US adults continue to listen to traditional radio.
By easily reaching a huge audience through mass media, your brand is likely to get noticed by newer potential customers that you had not previously targeted. The wide circulation of a business brand is one of the key strengths of traditional marketing, which digital marketing may not deliver.
3. Traditional Marketing Provides Direct Human Engagement
While some websites may have really efficient chatbots, humans are social beings, they like human interactions and rely mostly in relationships in practically all aspects of life. Through traditional marketing methodologies, your brand can easily cross paths with your customers as well as engage with them on a more personal level and build a long-lasting relationship.
Come to think of it, when making decisions on where to spend their money, consumers are likely to consider a business that shows genuine interest in their lives. Simple approaches such as sending birthday gifts with a special offer or promotion through direct mail really go a long way to build a connection that may lead customers to your shop or website.
4. Consumers Have A High Level of Familiarity With Traditional
A large portion of the population are very familiar with traditional methods of marketing. They do not require any explanation when handed a flyer, brochure or business card. They will readily accept them and read through at their own free time. All you need to do is ensure that the message is simple and clear. Amazing graphics and highly visible fonts will get you the kind of results that you are looking for.
5. Traditional Marketing Builds Strong Brand Awareness
Tremendous effort goes into creating a sustainable brand for businesses. Business recognition is vital for survival. Traditional marketing through posters, business cards, flyers, and brochures leaves a lasting impression on customers and still provide strong ROI for advertisers. If you take the right steps to build your brand by upholding certain standards, you will have an easy time building a robust brand with traditional marketing. A stronger brand simply translates to more loyal customers.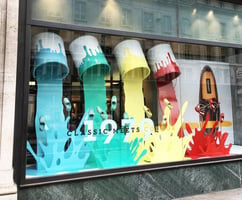 6. Traditional Marketing Intercepts Consumer Attention
People have a tendency of taking sporadic actions with scattered attention, and traditional marketing can really help you push the right button. Billboards with a call to action work impressively to entice a significant number of customers. In fact, window displays are known to catch the attention of customers walking by a shop. If they like whatever they see, they are likely to walk into your shop and get the commodity. Even if they do not purchase it, they will know about your business.
7. Many Consumers Know and Trust Traditional Channels
As we saw earlier, a significant number of consumers still prefer making offline purchases. Online fraud stories may be one reason. Lack of skill with navigating online is another. Even though they may still do online transactions on occasion, they may not be willing to do so in more than one or two situations.
Final Word: Use Traditional Marketing To Boost Business
Traditional marketing still works well even though many transactions are now digital. Traditional channels such as print and mass media cannot be overlooked when it comes to keeping your business in the spotlight and attracting new customers. All you need to do is simply target the right audience with a perfectly tailored message.
Give it a shot on your own or if you're unsure where to start please schedule your very own free one-hour consultation with us today!