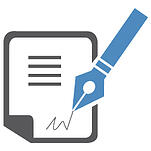 We've said it before, and we'll say it again. The best blog post in the world is useless if no one reads it. Thankfully, blog managers have dozens, if not hundreds of business blogging widgets at their disposal to help boost readership, drive engagement, and maybe even generate some leads. To make everyone's lives a little bit easier, we've taken the trouble to whittle down the vast world of widgets to a manageable ten — the ten best blogging widgets for your business.
And here they are, starting with the five "Must-Have" widgets, according to our pals over at HubSpot.
---

1. Email Subscribe Form. Do you want your reader to visit your blog, leave, and never return? Of course not. Not only do you want them to come back, you also want to establish a relationship with them so they share your material, vouch for your content, and better yet, transform into an actual customer. One way to accomplish this is by installing the Email Subscribe Form.

2. RSS Feed. As HubSpot notes, many people prefer RSS subscriptions to email, and these people must be appeased. Make sure the RSS is highly visible on your blog (HubSpot suggests the right-hand side near the email subscribe form.)

3. Comments Section. This one is a no-brainer. Your blog should generate conversation, even it means the occasional negative comment.

4. Search Bar. A search bar can keep a reader on your blog longer by allowing them to search for related content. Better yet, by installing search bars like Google Site Search, you can identify the specific types of content readers are searching for.
5. Calls-to-Action. We tend to think of widgets as pieces of software you install, but in the case of CTAs, they can also be graphics hyper-linked to a landing page. CTAs can help you promote events, boost email subscription, or market specific products or services.
6. Next/Previous Post — All of today's widgets exist to serve a higher purpose, and we can't think of a higher purpose than keeping readers on your blog. As a result, blog managers should do everything in their power to ensure that the reader experience is smooth, intuitive, and friction-free. This is the logic behind the aforementioned Search bar as well as the "Next/Previous Post" widget. Some blog services require users to install a widget to allow readers to easily read other posts without having to skip back to the home page. If your blog lacks this widget, install it ASAP.
7. Related Entries. Similarly speaking, this widget helps viewers seek out other types of interesting content. (But it won't work unless you make sure to tag your posts accordingly.)

8. Share This. The most important widget, in our opinion. Social media, SEO, and online marketing is increasingly guided by "social shares." Therefore, make sure your content can be easily shared by readers. There are dozens of widget that can do this; we just happen to like Share This. It places icons for major social sites under each post, optimizing sharing.
9. Show Top Commenters. This widget tracks the people who comment the most on your posts. It's important because successful blogs often rely on "tastemakers" to get the conversation started. Furthermore, when other commenters see that Steve in Atlanta is the top commenter, it can incentivize them to post more frequently. It's human nature.
10. Author Profiles. Including author profiles helps to build a connection with readers, who'll be happy to know there's a real-live human on the other side. Furthermore, if your blog's author also happens to be a sales rep, it can help introduce them to readers — otherwise known as potential leads and prospects.


What do you think? What business blogging widgets did we neglect to mention? Which of the these ten blogs is the most important? The least important?
Looking to take your blog to the next level? Download our Business Blogging eBook.
---