If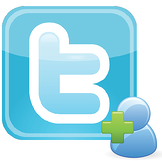 you're reading this article, you're probably a marketing manager who understands the inherent value of social media. At the same time, you're stuck in a kind of Catch 22-situation. On one hand, you realize that the best way to grow your following is by publishing quality content. On the other, this task isn't free. It requires an allocation of resources in a time where marketing managers must do more with less.
Fortunately, growing your social media footprint isn't an "all or nothing" proposition. Take Twitter marketing, for example. We recently stumbled upon this article, which spells out a quick and easy way to consistently build a steady stream of real followers. The author, Jeff Bullas, doesn't promise that you'll see 50,000 new followers a week; what his is offering, however, is a "slow growth tactic" that helps you boost Twitter marketing reach without radically increasing your tweets.
Here's how it works.
Find a high-quality and popular article pertaining to your business. Bullas notes that if your business sells handmade dog collars, find an article related to pet care.
Find the most popular keywords (maximum two or three) related to pets and include them in the tweet.
Tag the tweet with the most popular related hashtags. To find out what, exactly, these hashtags may be, Bullas suggests using Hashtagify.me.
The inherent simplicity of Bullas' approach — which is supported by some really cool tools — underscores some very important truths. One, if you consistently post compelling content, people will come back. It's the same reason you return to the HuffingtonPost, Buzzfeed, Reddit, or whatever content aggregation sites that speak to you. Second, by repeatedly posting on these topics, you'll be come an expert in the eyes of followers.
Some things to keep in mind.
Posted content should be related to your business niche. This means resist the urge to extrapolate on the recent plot twists of "The Walking Dead."
Content should also be shareable. The more shareable it is, the more followers are likely to, well, share it.
When it comes to keywords and tagging the content to hashtags, quality trumps quantity. By adding the post popular hashtags associated with the subject of your tweet, you'll reach more followers, as your tweet will appear in search results and on people's feeds who are following those hashtags.
This process needn't be time-consuming. As you'll see in Bullas' piece, he uses Buffer, an app that allows users to schedule tweets and Facebook posts in advance.
Better yet, Buffer suggests content for the user, which means you won't have to spend time combing through Google News or surfing the Web. That said, Buffer's content recommendations are somewhat limited. To solve this problem, Bullas also uses BuzzSumo, a search engine that keeps track of article with the most social shares.
Bullas claims it takes him about 10 minutes to fill up a week's worth of content. He sets it up every Monday, sits back, and watches his new followers roll in throughout the week. All told, his Twitter following has tripled over the past few months.
Could this process work for you? Only one way to find out!
In the meantime, what other tactics have proven effective in boosting your Twitter marketing efforts? Has Twitter marketing become more or less important in your overall social media marketing strategy?
Looking for more tips to dial in your social media marketing strategy? Sign up for our free newsletter.