Conference season is upon us, and that can only mean one thing: swag (also known as promotional items.) We can't help but laugh at the irony. After all, the marketing world has been revolutionized by social media, non-stop smart phone connectivity and mobile advertising, yet despite these profound developments, many of your sales people may nonetheless find themselves standing at a conference handing out customized promotional pens. Some things don't change.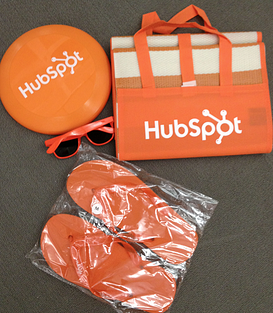 Of course, there's a right way and a wrong way to create and distribute conference promotional items. A paperweight won't help your company stand out; in fact, it will probably reflect poorly on your brand in the eyes of prospects. On the other hand, helpful and useful promotional items will have the opposite effect: they'll create a lasting and positive impression on those you come in contact with.
First and foremost, you'll need to ask yourself if prospects will actually use the swag they receive. Furthermore, even if they use the item, will it create a lasting impression? Take the classic promotional item that is the pen. It's a practical item that everyone can use. Yet it likely won't resonate with the prospect, especially if they are of poor quality. Also make sure your item is something that the recipient can take with them on their trip home, as most people you encounter at conferences are traveling light. Furthermore, make sure you draw from your own experiences: what conference promotional items have you received that were actually cool?
Having passed along some (hopefully) helpful context, we now present some conference promotional items that will help your brand stand apart from the competition.
Mobile chargers. No doubt you've had a similar experience: you're at a conference, your phone's about to die and you need a charger. Imagine how popular your booth will be equipped with dozens of free chargers for frantic salespeople.
Seasonal items. As we noted in a previous blog, brands should be sure to capitalize on the summer season for marketing purposes, and the same logic applies to your conference promotional items. If you're attending a summer conference, consider things like flip flops or sunglasses. If it's in the winter, think about beanies or fleeces.
Notebooks. Sure, everyone works on smart phones nowadays, but that doesn't mean people still don't need good old fashioned notebooks to take extensive notes. For an added cost, you can consider branded moleskins, which are a classier step up from your typical notebook.
Reusable water bottle. Much like mobile chargers, prospects and leads will very much appreciate a reusable water bottle. It'll save them time from running to the water fountain or purchasing bottles at the hotel gift shop. Furthermore, these bottles last for a long time, ensuring your brand will be seen after the conference is over.
Other items include mugs, hats, conference bags, umbrellas, t-shirts and key chain lights.
Now it's your turn. What types of conference promotional items do you like to receive? What kinds of items have proved successful from your end? What kind of items are completely useless and can actually reflect poorly on a brand?
Want to make the most of the conference season? Contact us for a free consultation.