Creating and rolling out customized content is a huge part of your inbound marketing strategy. After all, companies have a diverse pool of prospects, each with their own interests and needs. Your traditional marketing plans acknowledge these differences and the need for customization, and so should your inbound marketing content.
Of course, we see this idea play out in the realms of display advertising and social media every day. If you've spent any time setting up an AdWords campaign or a Facebook ad, you'll notice that you have many customization options available to you. You can add LinkedIn to the list of social media networks embracing the customization imperative.
What are LinkedIn Showcase Pages?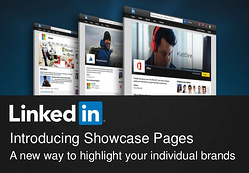 In November 2013, LinkedIn announced the rollout of LinkedIn Showcase Pages, a specific kind of page that's part of your Company Page that allows you to highlight specific brands of products. Let's say you're an auto dealer. As you buyer personas so eloquently illustrate, certain demographics tend to prefer certain products. If a guy who looks like your typical truck-buyer comes in and asks about your new truck line, you're not going to direct him to minivans or sedans - you're going to show him trucks. That's what the LinkedIn Company Pages allow you to do: create specific sub-pages for specific products like a Ford F-150 or a Focus.
These Showcase Pages are also cool because they operate on the LinkedIn platform which, as any LinkedIn user can tell you, is a tremendously powerful lead generation resource. So not only can you build relationships with followers or members of your community, you can educate them about your brand or specific products - yet another key component of inbound marketing.
The Pages is Only as Strong as its Content
Which brings us back to the idea of content itself. Creating LinkedIn Showcase pages will require some work (but not too much.) Just like your blog, Facebook page, or landing pages, you'll need to attract visitors with compelling content. So what kind of content will resonate most with visitors to your LinkedIn Showcase pages? Photos, naturally. Short, to-the-point text about the product. Recommendations from satisfied customers and followers. Market analysis speaking to the value of the product (e.g. Consumer Reports or JD Power data.)
How to Set up a LinkedIn Showcase Page
Setting up a Showcase Page is easy. The Company Page administrator simply goes to the "Edit" drown menu and selects "Create a Showcase Page." This will create a page with a unique url. Enter information about the product or brand and include images and links. That said, keep your Showcase Pages to a minimum. Though you can create up to 10 pages, we suggest you start off with one or two best sellers and make sure they're populated with compelling content.
Looking for more lead generation tips? Download our Lead Generation eBook!