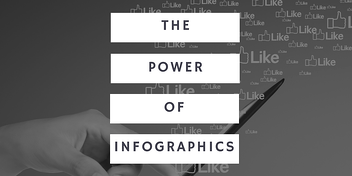 Why are infographics powerful? The reason is simple. It allows brands to present interesting data in an effective manner to engage customers and leads.
If you are sufficiently convinced of the power of infographic and with it, infographic marketing, by all means, you can stop reading now. But if you're still not sold, we've listed five additional reasons why infographic marketing should be part of your inbound toolkit.
1. They speak to how we process information. We humans are visual learners. Viewers will intuitively absorb a message or takeaway that distills useful information in a simple way. It's how our brains are wired.
2. They're attuned to social media users' (short) attention span. Journalist and political commentator Andrew Sullivan was a blogging pioneer. His "Daily Dish" blog generates thousands of hits a day and is living proof that bloggers can make money by relying on a subscription service. However, Sullivan recently decided to quit blogging and people began wondering: Is blogging becoming less important? Is there really a market for insightful 750-word posts in a world of social media, 140-character Tweets, and five-to-six second Vine videos?
We argue that for specific industries, yes, blogging is still tremendously valuable. But regardless of your stance on the issue, one thing is certain: Infographics are visually compelling, bite-sized pieces of content that are uniquely aligned to the short attention span of social media followers and smart phone users.
3. They're shareable. Followers will share a compelling infographic on social media, and that, of course, is great for your brand's reach. Better yet, it's great for SEO purposes as Google's Search algorithms rewards content that is shared by actual users.
4. They exude your brand's expertise. Inbound marketing is predicated on the idea that customers will find the brand before the brand reaches out to the customer. But how can this occur? One way is for followers to become impressed by your brand's expertise and insights. To accomplish this, brands need to roll out compelling content, and while white papers, blogs, customer testimonials, and infographics. A well-designed infographic that exudes expertise, experience, and trust, will go a long way towards attracting followers.
5. It can draw traffic to your site. Viewers can click your hyper-linked infographic and then be taken to a landing page. Simple.
What do you think? Has your team experimented with infographic marketing? What's challenging about infographic marketing?
Need more help in formulating an online marketing strategy? Sign up for our email newsletter.