The new LinkedIn business profiles are forcing marketing managers to re-think how they use the platform. Many professionals are on LinkedIn for personal reasons, namely networking, and this goal naturally requires a more personal voice and approach.
The platform's business profiles, on the other hand, need to be focused on the business itself. It's less about personally networking with like-minded individuals and more about using the profile to grow your brand, generate leads and leverage a new inbound marketing channel.
As loyal readers to our blog, you know that the cornerstone of any inbound marketing channel is content. All of which presents the obvious question: what type of content to post on LinkedIn? Coincidentally enough, that's the theme of today's post.
We suggest the following:
Job openings - Linkedin is a great platform for promoting your brand on their "Careers" tab. It makes perfect sense: most users are on LinkedIn for professional, job-hunting purposes, so small businesses have a great opportunity to present themselves as a cool place to work. Job openings should be brief, compelling, and keyword-heavy. Adventurous companies are uploading videos of happy employees to further strengthen the pitch. In fact, we'd venture to argue that LinkedIn, along with Pinterest are the two best social media platforms for job recruitment.
Product descriptions - The Products tab, naturally, is another place where you can post content. But be careful: businesses run the risk of making this page too "salesy." Instead, we suggest you avoid the crass sales lingo and describe products in a simple, conversational manner. Remember: less is more.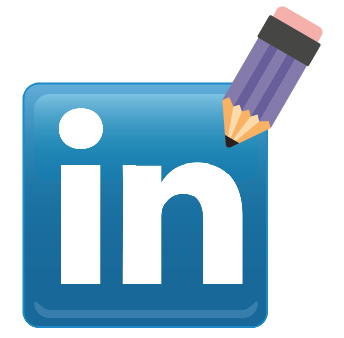 Endorsements/Recommendations - The beauty behind this content is that you don't have to write it - your followers will do it for you. So let's say you have a listing on your "Products" page for your top-selling residential solar panel. Over time, followers will recommend it and they'll appear in the "Recommended By Your Network" column on the right-hand side of the screen. This is good stuff, and it will incentivize you to actively solicit recommendations to create a collection of what we industry-insiders call "social proof."
Blog posts - There are two places where you can post this content: your "Home" page and an "Insights" tab. The interface most resembles Facebook, whereby you'll simply post an excerpt of a longer post; viewers will then have the ability to "Like", "Comment", or "Share" the post. Sound familiar?
"About text" - LinkedIn business profiles place the company's "About" section at the bottom of their profile - not exactly high-profile real estate. It's important content, especially for job-seekers who may be unfamiliar with your company. And therein lies the challenge: since LinkedIn is still primarily a platform for professionals and job-seekers, companies will need to navigate that fine line between creating content aimed at this audience versus traditional customers or prospects.
After all, you already have job openings, product descriptions, and "About" text lying around somewhere. And you already post blogs about topics that are of interest to customers. So the trick is to simply take this content and tweak it ever-so-slightly for your target
demographic: professional job-seekers and potential business partners and clients. Piece of cake.
Looking to set up a LinkedIn business profile from scratch? We can help. Contact us for a free consultation.