Loyal readers of this blog know that we've been talking a lot about the potential of

mobile banking apps

, especially for small businesses. These apps can help extend your brand, reach new customers (especially young ones), and differentiate yourselffrom competitors. But, as with any product, the mere existence of a product doesn't necessarily guarantee success.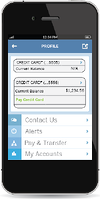 So today we'd like to look at the key ingredients, of a mobile banking app: what it should include and what it shouldn't include. In doing so, banks can find that sweet spot encompassing customer satisfaction, usability, and functionality.
Like any technical project, small banks don't want to bite off more than they can chew. So how can they prioritize? Well, according to recent research, there are five basic app offerings that close to 75 percent of mobile banking users wants. This is the baseline, and fortunately, they are all well within reach of any bank, regardless of size.
So without further ado, we present:
What your mobile banking app should include (the basics):
Your app should give customers the ability to:
Call customer service from the app
Check balances
Transfer money
Pay bills
Look up branch location and hours
What your mobile banking app should include (next-level stuff):
If you can accomplish these five tasks, you're 80 percent there. If you want to take your mobile banking app to the next level, we suggest you give users the ability to:
Set up alerts

.

Let customers know if their balance is low, a check bounced, or a bill is due.

Pay bills and schedule bill payment.
Deposit checks. With this functionality, customers can take a picture of a check, select their account, enter the amount in the app, and send the picture. Voila - instant deposit, saving people a trip to the ATM machine.
What your mobile banking app
should
include (the non-transactional stuff):
Lastly, all the transactional functionality in the world won't help your app if customers get confused or run into technical bugs. So make sure your app is built with an eye towards:
Compatibility. Make sure the app works smoothly on all major devices. If possible, aim for all the major providers: iPhone, Android, Samsung, Windows, iPad, Kindle, and yes, even Blackberry.
Navigability. It sounds obvious and intuitive, but the app itself must be easy to navigate. The interface should be clean, simple, and without clutter. Most importantly, customers should be able to conduct basic transactions quickly and efficiently.
World-class security. This is the most important ingredient, even though customers may never "see" it. We won't bore you with the technical IT details; instead we encourage you to forward

this article

to your developers and IT team.
What your mobile banking app
shouldn't
include:
By rolling out your app's functionality in the aforementioned incremental fashion you can avoid common technical pitfalls that beset banks that try to do too much. That said, it's still worth noting the things your app shouldn't include, which are:
Technical bugs. This, again, is obvious, but you'd be surprised how common the problem is. For example, many app dashboards are too complicated and as a result, don't load properly. And let's not forget crashing apps, error messages, connectivity problems, and loading problems - the "buggy" stuff that chase customers away.
Invasive ads. There's a fine line between using the app to learn more about customers and overtly selling to them. Don't turn the app into another marketing channel.
"Empty" functionality. Some mobile apps merely forward customers to the bank's main web site. This defeats the purpose of developing an app (and will annoy customers in the process.)
Unnecessary functionality. At the same time, don't try to do too much. While the idea of having customers apply to refinance an auto loan via an app sounds cool in theory, it's complicated, costly, and not necessary.
One last thing. Mobile financial apps aren't just for the "big boys." Assuming your bank has a practical, incremental plan and the funding to develop the app, most of the functionality included in this article is relatively easy to implement. Don't believe us? Then check out this fascinating piece in the Financial Brand. You'll see many of the highest rated mobile banking apps come courtesy of smaller regional banks.
Looking for more tips for rolling out a killer mobile banking app? Sign up for our newsletter!