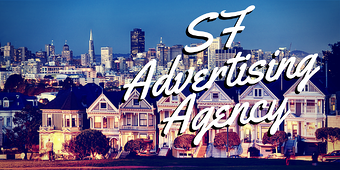 As you read this, thousands — no, millions! — of professionals around the world are thinking of how they can land a job in San Francisco. The appeal, of course, is pretty obvious. At the time of this writing, it's 14 degrees in New York City while here in San Francisco, it's 64 and sunny. Why work in the traffic-congested, freezing, and super-expensive Big Apple when you can be 20 minutes from the beach and mountains here in Northern California?
We here at Palmer take it for a given that working the the City by the Bay is very cool,
especially
if you're an advertising
professional
. But maybe you aren't convinced. Maybe you think that a career at an advertising agency in San Francisco isn't for you. If that's the case, hear us out. There are countless reasons for working in advertising here in San Francisco, but for brevity's sake, we'll limit our list to three. Here they are:
Duh, it's San Francisco. San Francisco is the greatest city in the United States. Discuss. Where else can you take weekend trips to Tahoe, Yosemite, the beaches of Santa Cruz, or the mountains of Big Sur? Where else can you enjoy the "old-world" pleasures of North Beach and the hip nightlife of the Mission District? The answer is only in San Francisco. Now we admit, living in San Francisco isn't cheap nowadays, but you have options. The wonderful East Bay remains tremendously affordable, and it's just a subway ride away. (And the East Bay has none of the fog!)
The city is the center of the (inbound) marketing world. New York has a superiority complex. And for certain industries — finance, fashion, architecture — the city's arrogance is justified. New York also remains the hub for traditional marketing (think Mad Men), but really, what's so fun about that? The future, as readers to this blog know, is in inbound marketing, which embraces the brave new world of the Web, social media, mobile computing, etc. And where, may we ask, do all of the world's most exciting and innovative technology companies and employees reside? That's right: San Francisco and neighboring Silicon Valley.
The work is dynamic, exciting, and unpredictable (in a good way). There's a scene in the Billy Crystal movie "City Slickers" in which Crystal's character, who sells radio ads, complains that his jobs is essentially meaningless. "What do I do? I sell air," he complains. And if you, as a marketing professional, are content with selling radio and television ads, day in and day out, then we won't stand in your way. But the beauty of inbound marketing is that it's always changing and evolving. New social media networks emerge, new inbound tactics are implemented, new tools and apps hit the market. It's exciting stuff and rarely are two days the same. You can't say that for many jobs, and to do it in San Francisco (see reasons #1 and #2) is icing the cake.
But again, we're biased. After all, we're going to leave work, take a walk through Fisherman's Wharf, and grab an Italian dinner in North Beach. But what do you think? What are the perks of working for an advertising agency in San Francisco? What are the drawbacks?