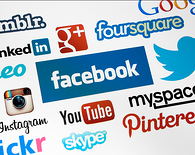 What are the best platforms for solar social media marketing? Well, as with most marketing-related questions, the answer is, "it depends."
It depends on the goals of your strategy — lead generation, brand awareness, conversions, all of the above, etc. It depends on where your customers spend their time. And it depends on the platforms themselves, since after all, each platform has their own strengths and weaknesses.
But before we take a closer look at the most solar-friendly social platforms, let's first briefly revisit why social media can help solar marketers (as if you needed to be reminded).
The power of word-of-mouth. If you want a cup of Starbucks coffee, you probably don't need two dozen Facebook friends to tell you to buy one. Residential solar is a different story. Social followers will be more inclined to engage with your brand if their friends like or share cool content, or better yet, talk about their great experience with your firm.
The need to educate. There's a lot of confusion and lack of information around solar energy. Social media is a great platform to build trust and educate customers at the top of the funnel by posting inbound marketing content like white papers, blogs, and videos.
The visual element. Compelling photos help drive your solar social media marketing. Fortunately, there's no shortage of great photos - anything from a gleaming rooftop installation to a smiling family -- to help promote the solar lifestyle.
Now let's turn to the networks themselves.
A good first step in this process is to whip out your solar buyer personas and determine where your customers are. If most leads seem to be on Facebook, for example, that'd be the best place to double-down on your efforts and consider things like paid ads. Nonetheless, certain networks have their own strengths and weaknesses.
Facebook is a good place to educate customers by posting content like videos, blog posts, photos, and white papers. If your goal is direct selling, you may want to look elsewhere; Facebook works best for solar firms looking to grow their brand, build trust, and exude experience, as opposed to marketing directly to customers. To that end, encourage existing customers to "like" your page, post photos of their home solar systems, and post positive comments on your profile testifying to costs savings and your team's professionalism.
Twitter is good for announcing news or promotions. Given its limitations, it isn't an ideal platform for, say, promoting an eBook (though, of course, you can link to it). As with all of these networks, work smarter not harder. Tagging posts with a dozen hashtags, for example, is a waste of time. For more help along these lines, check out our recent post on how to organically grow your Twitter following.
LinkedIn works well for solar professionals looking to build relationships, identify talent, and exude their firm's expertise. It isn't a "salesy" platform. Successful solar firms use LinkedIn to, among other things, think outside the "sales" box to instead identify and partner with companies in insurance, construction or venture capital in their geographic area.
Instagram is great for photo sharing, but realize you're doing more than just posting photos. Successful solar marketers use Instagram to sell an "experience" like the "green lifestyle." They tell stories, like how a Sacramento family went solar and halved their energy bills. And they crowdsource, encouraging followers and customers to post their own photos.
Ultimately, your solar social media marketing strategy will be attuned to three main considerations: where your customer are, your marketing goals, and aligning these goals with the platforms best suited to address them.
What do you think? What social media platform has proven to be the most effective for your solar marketing strategy? Which ones have under-performed? Which networks did we neglect to mention?
Looking for more tips to create a killer solar social media marketing strategy? Contact us for a free consultation.