We recently did a survey about our email marketing and content creation and asked our audience what types of content they'd like to see more of. One of the responses we got was to provide real life examples of social media success.
We thought the best way to do this would be to ask our clients what they think of social media marketing and how it has contributed to the overall success of their advertising and marketing efforts.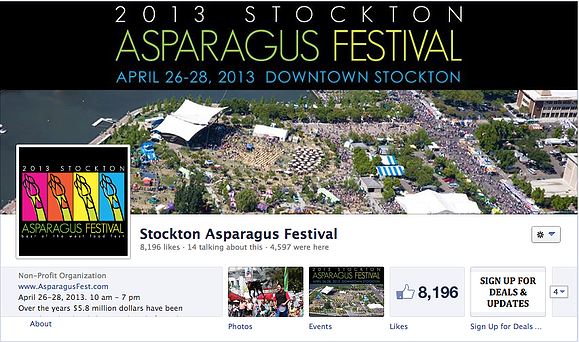 The Palmer Ad Agency has been doing social media marketing for Kate Post and the Stockton Asparagus Festival for four years now. We also help Kate with the San Joaquin County Fair social efforts.
After putting on our reporting shoes and handing the mic over to Kate, these are some of the answers she had:
PALMER: How have you used social media marketing?
Kate Post: We utilize Social Media in two very large special event projects
The Stockton Asparagus Festival and the San Joaquin County Fair and Horseracing.
P: When did you start to utilize social media as part of your marketing strategy? Why?
KP: The Stockton Asparagus Festival experienced the first ever social media efforts in 2009 with Palmer Ad Agency; at the forefront of the latest technology in marketing.
We began to expand our messaging on our social platforms, namely Facebook, gathered a huge fan base and sent regular messages to thousands of Festival fans as our fan base grew.
It was important to utilize social media, it is the most current and necessary method to "get the word out!"
P: How has social media directly affected the Festival?
KP: Social media was responsible for huge increases in online ticket sales, growing rapidly at 30-40% in the first three years of using social media. The return on investment speaks for itself.
P: What would be the biggest piece of advice you could give anyone just starting to implement their social media marketing strategy?
KP: I highly recommend utilizing an agency to implement the social media aspect of any event. It will raise the quality, continuity and image of any business or special event. And of course, when done well, this is very time consuming. Most entrepreneurs simply do not have the time or expertise to implement social media on an ongoing basis.
We have worked with Kate Post and the Stockton Asparagus Festival for over 20 years. When we first proposed the idea of social media marketing to her, she was certainly skeptical. But as soon as the Facebook page went up and fans began flocking to the page, it was an easy sell.
While Kate does have a very specific niche market, social media has proven to be a great marketing tool for all B2B and B2C companies out there. Don't believe us?
Read these stats from 4,000 businesses: