Sourcing images for a marketing or social media campaign is a classic "Catch-22." On one hand, marketers can work with some of the best graphic designers around - except it will cost them a pretty penny. On the other hand, marketers can legally source free photos, yet these photos may look amateurish and unprofessional.
Fortunately, there's a middle ground, whereby small marketing departments can get images - compelling, professional images - within a reasonable budget.
Before we take a closer look at how to get affordable photos, we wanted to first add a caveat to our opening paragraph. We certainly did not mean to give the impression that all free photo sites are comprised of amateurish photos. In reality, there are tons of reputable free photo sites out there, like Stock.xchin, Openphoto.net and Unprofound. Companies just need to be patient and know where to look. Furthermore, marketers can also source trademarked photos as long as they keep in mind the principles of "fair use," and, most importantly, attribute and link to the original sources.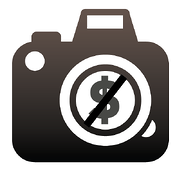 That said, link and source attribution is most applicable to sharing photos on social media. If you're running a unique marketing campaign you're not going to use shared photos, which bring us back to our original point: a sensible and affordable middle ground whereby marketing departments can source images. The fact is that while there are tons of great and free stock photos out there, companies shouldn't feel obligated to use them as-is. In other words, not only are these photos there for the taking, but they can also be repurposed by in-house graphic designers. Therefore, a great and simple way to generate effective photos is to download them for free and re-format them based on your needs.
Here's one way to do it by using a tremendously helpful (and free) resource, Creative Commons (CC.) CC is a non-profit organization "devoted to expanding the range of creative works available for others to build upon legally and to share." They also have one of the most thorough and impressive databases enabling users to "find content you can share, use, and remix."
Simply go to the search page and enter your query. Before you hit Enter, you can check or uncheck two boxes pertaining to your search, namely if the desired image is can be used for "commercial purposes" or can be modified, adapted, or built upon. You can also search using specific vectors - Flickr, Google images, Open Clip Art Library, etc.
For our purposes, we entered "Car Buyer" in the search box and then clicked on Google Images. The result was a familiar Google Images page, however, the images were sorted by the tag "Labeled for reuse with modification." You can also filter results by "Labeled for reuse," "Labeled for noncommercial reuse with modification," "Labeled for noncommercial reuse," and "Not filtered by license."
Once you find an image to your liking, simply download it, import it into Illustrator or Photoshop, and create your customized version.
One note here: While CC is a repository of collected images, they don't own the copyrights to the photos themselves. So if you're going to use images from their site for a large-scale marketing campaign, we recommend you contact the copyright holder directly.
One last point. Downloading an image from a "free" site and subsequently modifying it in-house isn't "free;" after all, you have to pay a designer to do the customization work. That said, it's certainly more affordable than hiring a professional photographer and the end-result, a compelling customized image, will look better and more personalized than simply using a free stock photo without modification.
Looking for more tips to score cool images on a budget? Contact us for a free consultation.