Businesses in all industries and of all sizes that leverage content marketing can find success in creating and distributing content to attract and engage with their target audience. This marketing approach can encourage your target audience to purchase your company's product or service and result in revenue growth.
However, a good content marketing strategy is essential to realize a return on your investment. Here are nine questions to consider when developing effective content marketing.
1. Why do you want to reach people?
The drive behind any marketing is to achieve your business goals and objectives. Just as with other approaches, it's important to identify your key objectives and goals such as the audience you're trying to reach what content is valuable to them, what message you're trying to send and what actions you want them to take.
Clearly identifying your business objectives helps direct everything moving forward including your messaging, distribution platforms and content types.
2. Whom do you want to reach?
Before you can create any content, you need to identify and understand to whom you're speaking. Choosing primary and secondary audiences that influence your business objectives helps narrow down your ideal buyer and better tailor your messaging to increase their awareness of your brand and perception of your value to effectively influence your prospects and achieve your stated business goals.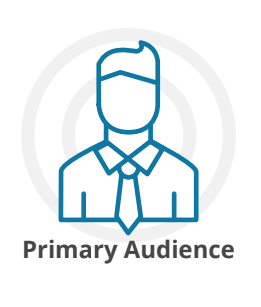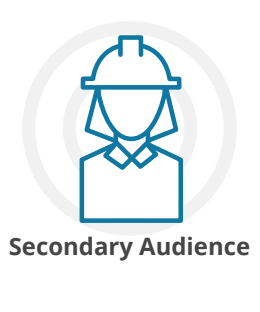 3. What will you talk about?
It's important that your content follows your ideal customer through their buyers journey. This includes several phases:

Awareness: In this stage, targets have recognized and expressed symptoms of a problem or opportunity, and while seeking a solution, have become aware of your products or services. Grab the prospect's attention by addressing the problem and start a conversation around how your solution solves their issue.
Consideration: After targets have clearly defined their problem or opportunity, the majority of buyers dive deeper into potential solutions to see how they can address their particular pain points. Content here should educate the prospective to answer objections or questions on their own.
Decision: Targets have now clearly defined their solution strategy, method or approach, and have the support of upper management to select a solution. Content here should be helpful to them as they begin to think about preparation, implementation, quick start costs and customer support.
4. Who will create the content?
No matter what the size of your organization, you need to have enough resources to enable at least one key piece of written or recorded content per week, with more thought to quarterly "big ticket" items. It's key that your business continues to adhere to a regular publishing schedule and not on an ad hoc basis.
All of this content creation takes a village with a team that includes copywriting, graphic design, web development, digital marketing management, marketing coordination, video and podcast production and other specialized skills. This may necessitate looking beyond your team for outside help.
5. When will you reach your audience?
A content calendar will enable you to schedule work in advance, simplifying content planning and budgeting. It will also ensure you publish relevant and timely content based on the calendar year, factoring in events that matter to your target audience.
We recommend a single person take ownership of the content calendar. Ensure the following criteria per piece of content are met: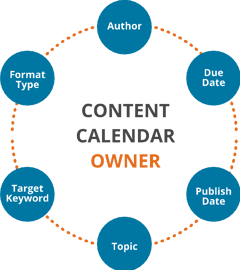 Author:

The storyteller(s) is responsible for producing the story (the writer, designer, illustrator, videographer, etc.)

Topic:

This should align with key dates from the calendar.

Format/Type:

Confirm the content type (article, blog, infographic, e-book, webinar, etc.) and make sure that the format aligns with the preferences of your target audience. This may involve using the same messaging in a variety of formats.

Due Date:

Choose a date for when the story or story assets are due from the author.
6. How will you reach your audience?
Each business goal will be suited to a content format that's most appropriate to reach the identified audience segment. In general, your content will fall into three families:
Core Content: These are the robust foundational pieces of content that are directly related to the prospect problems your organization can help solve. Ideally, core content adds tremendous value for your target audience. Typically, core content is evergreen – meaning it can remain relevant for a long period of time – but it can also be created for a specific event, such as a product launch.

Divisible Content: Also known as micro content, this is content repurposed from your core content. The main purpose of divisible content is to extend the reach and shelf life of your core content, maximizing your return on investment (ROI). Using content in multiple ways is also known as content optimization.

Newsworthy Content: This is timely or trending content that capitalizes on news, industry movements and larger themes such as cultural, economic and political topics. Planning newsworthy content allows organizations to be proactive and start conversations, establishing themselves as industry thought leaders.

You must also consider which channels are best to reach your business's audience and how can you optimize the distribution of content to get the right message in front of the right eyes. Channels can be owned, earned or paid.
Owned: These are channels that are directly controlled by you. Examples: Your website, newsletter, corporate reporting, social channels Benefits: Totally free, controlled message, guaranteed placement
Earned: Earned Media is one of the most authentic and effective ways to amplify and validate your message – it's like another organization saying "Hey, listen to this!" Examples: Social media influencer mention, magazine editor article Benefits: It extends the reach of the content (and if that content is housed onsite, drives audience engagement on the website), and adds credibility to your brand because it comes from an unbiased third party.
Paid Media: Paid media guarantees placement of content across a number of platforms, including social and traditional online media. Paid strategies use a range of tools to ensure the audience reach is highly targeted. Examples: Facebook funding calls and educational products, Linkedin thought leadership articles, blogs, opinion-driven content Benefits: Guaranteed placement, highly targeted audience
7. How do you want people to react?
Ideally, you want people to love, engage with and share your content as they move from becoming aware of your brand to converting to a customer. To best answer this question think of your business goals and the desired outcomes.
8. What does success look like?
It's important not to base success on unachievable goals. However, without an objective of some kind, you cannot measure success. It's best to create SMART goals:

9. How will you measure success?
We recommend putting metrics into two key-groups:
Success in implementing the strategy.
ROI on successful implementation of strategy.
Can the successful achievement of current KPIs be quantified in terms of ROI?
Measuring success also involves choosing the right tools. At Palmer Ad Agency, we trust and rely on HubSpot and Databox.
Feeling Overwhelmed? Palmer can Help.
We realize this is a lot of information. If you don't have a background in marketing, it can be overwhelming to think about everything involved with forming an effective content marketing strategy.
The good news is you don't have to be a marketing expert to implement your content marketing strategy. We can help develop a customized approach for your unique needs to give you the competitive edge you're seeking.
Our three-step process starts with your story before developing a flexible process and establishing a workflow for successful content creation and distribution.
The Story
The Process
The Workflow
Our team of experienced marketing professionals is here to guide you through developing and implementing your content strategy so you can focus on the other important demands of your business.
Get in touch with us for a free 60-minute consultation.