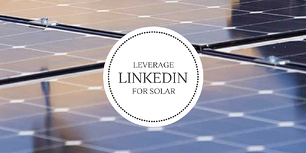 LinkedIn remains the optimal social networking platform for lead generation for industries like solar. There, we said it. Intuitively, it just makes sense. After all, a majority of LinkedIn users are there to network and not look at photos of kittens. And the data backs up this assertion: HubSpot found that traffic from LinkedIn generated the highest visitor-to-lead conversion rate at 2.74%, almost three times higher (277%) than both Twitter (.69%) and Facebook (.77%).
The platform is particularly attuned to the needs of the solar industry. After all, the solar space is fluid and heterogeneous — sure, solar marketers need to attract residential leads, but they also need to partner with real estate agents, community leaders, lenders, and so on.
Therefore, we'd like to pass along five tactics for leveraging LinkedIn for solar lead generation.
1. Optimize your profile. To quote an old adage, you never get a second chance to make a first impression. Make sure your LinkedIn profile comes across as coherent, intelligent, and articulates your wealth of experience and expertise.
2. Join LinkedIn Groups. As previously noted, a benefit of LinkedIn is its ability to let users branch out beyond their industry. Let this logic drive your involvement in various LinkedIn Groups. Participate in groups pertaining to relevant fields like financing, real estate, renewable energy (beyond solar), and even home construction.
3. Post compelling content. Did you write a white paper on how dropping solar panel prices will affect the residential market? Post it. The most effective content will be informative in nature, exploring trends and providing analysis.
4. Network. Here's where you reach out and make personal connections. Identify partners and influencers and approach them intelligently and deliberately. Read up on their industry, identify areas of common interest, and above all, don't come across as a salesperson. This is where it's important to check out your friends' connections. For example, if your friend Jim is friends with a real estate agent, Mary, who just happens to work in the same city as you do. Ask Jim for an introduction. Also make sure to use LinkedIn's Advanced People Search capabilities, which allow you to search using specific criteria like location or industry.
5. Be active. There's nothing wrong with simply checking in every so often, scanning content, and refraining from conversation. However, this kind of approach won't help you build connections and engage other members. Join the conversation.
Remember, all of these aforementioned tactics involve leveraging your personal LinkedIn profile. There are a whole host of other options for brands looking to leverage their business profile, like Showcase Pages and Linked in Sales Navigator, a solution that builds sales lists, provides lead recommendations, and shows who within your company is connected to prospects.
Now we'd like your feedback. How do you use LinkedIn for solar lead generation? What tips did we neglect to mention?
Looking for more tips to make the most out of LinkedIn? Sign up for our free newsletter.