That blog your firm set up six months ago is covered in proverbial cobwebs. As a result, more pressing issues took over and your blogging experiment languished. Fortunately, there is a solution to not only kickstart your blog, but make it the primary component of your inbound marketing strategy: the blog editorial calendar.
Blog editorial calendars work because they articulate the content that will be posted, the way it will be presented to the public, post ownership and frequency, and important post-publication steps. It creates a repeatable process that is good for everyone. Here's how.
1. Select a platform. You can create your calendar in an Excel spreadsheet, Google Calendar, Outlook, etc. Whatever works best for your team.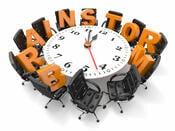 2. Select publishing times. This is where you enter when you will publish each post. As a starting point, we suggest three times a week during typical business hours. For example: Monday, Wednesday, and Friday at 10:00 am. Make sure to make these "repeating" events so you don't have to enter the information manually every week.
3. Assign ownership. Who's writing them? Who's editing them? Who clicks the "Publish" button?
4. Categorize your posts. Not all pieces of content will be the same. Some will be FAQs about a certain topic; others will be customer testimonials, "How-To" lists, or (if you're desperate) a picture of a cute kitten. We suggest designating a specific category for a specific day. For example: Monday posts will be educational in nature, like a "How-To" list. Wednesdays will provide commentary on a pertinent news item. Friday will be a post examining how your firm addressed a specific client need.
5. Set posting guidelines. We suggest a length of 500-750 words per post.
6. Create a diverse pipeline of content. While this step doesn't specifically speak to how to write a blog editorial calendar, it's nonetheless important. Make sure you have a steady stream of content on the backend aligned to your keywords. To do this, simply set up a Google Alert. Also make sure your content is diverse. Readers will get tired of the same topics over and over again.
7. Remember your keywords. Make sure each post mentions your keyword at least three times. Also include them, whenever possible, in the post title.
8. Articulate next steps. Publishing a post is but the beginning of your content's proverbial "journey." Post excerpts with links on social media sites, but before you do so, dictate who is responsible for this task. Furthermore, some tweaking may be needed. For example, if you're posting an except on "Seven Things To Ask a Dealer Before Buying a Pre-Owned Car," throw the conversation out to your followers by including a comment like, "What do you think? What was the one question you wish you asked your dealer before you bought a pre-owned car?"
In eight easy steps, that's how you write a blog ed cal! Speaking of throwing the conversation to followers, we'd like to hear from you. Does you firm have a blog editorial calendar? What's its most critical component?
Looking for more tips to optimize your blog? Download our Business Blogging eBook.