With summer upon us, marketing managers at financial institutions should take a well-deserved break. We're thinking Tahoe, maybe Palm Springs (but definitely not Vegas.) However, before they skip town, managers should also realize that the idea of summer vacation can be used as an effective marketing hook for their financial brand. After all, summer vacation is predicated on having enough savings in the bank, and who better than financial services firms to talk about ways to make this happen? Therefore today we'd like to take a closer look at the power of the summer financial marketing campaign.
Connect With Customers
We all know that the key to a successful financial customer relationship is building trust. Brands need to assure clients that their money is safe and that they have their best interests in mind. This idea can be strengthened by building connections based on common interests like saving for retirement, planning for college, and yes, setting aside money for summer vacation. Furthermore, the classic summer financial marketing campaign comes with an added bonus: it's fun. While coming up with $100,000 for your kid's college education is a scary proposition, setting aside money for vacation brings with it lighthearted themes like sun, the open road and beach time. Use these images in your ads to convey the power of summer fun.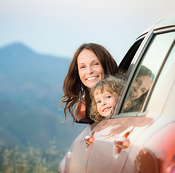 Show Your Expertise
One of the main principles of inbound marketing is showing prospects that your brand is trusted and experienced, and a summer financial marketing campaign provides an obvious platform with which to do this. The blog posts practically write themselves:
Seven Tips for Saving For Your Summer Vacation

Create a Budget Using Our Summer Vacation Calculator

How to Save Money on Hotels, Rental Cars, and Other Vacation Expenses

About To Book that Summer Vacation? Read This First.
With all of these posts, make sure to back up your opinions with facts. A great resource is AAA, which often publishes statistics on Americans' vacation plans. For example, AAA recently announced that gas prices were dropping and the Internet travel company Travelzoo, in a classic case of newsjacking, pounced, firing off a press release noting, "'Now is the perfect time to plan a weekend road trip as AAA recently announced that gas prices are dropping,' said Gabe Saglie, senior editor for Travelzoo. 'In addition to saving on gas, we've found road trip deals that will save travelers up to 60% on regular rates for hotels, restaurants and attractions nationwide.''
As this example indicates, there's no shortage of content resources at your disposal. Simply set up a Google Alert with keywords "AAA Americans Summer Vacation" and watch the content roll in. (In fact, we just searched those keywords on Google News and the first page produced a ton of great stuff: the aforementioned link, a nice article on the emergence of "staycations," and a US News and World Report piece entitled "4 Top Ways to Save on Summer Vacation.")
Generate Social Media Chatter
If there's something everyone can agree on, it's the inherent awesomeness of summer vacation and that fact that everyone has opinions on the topic. Therefore, take to social media to not only promote your campaign, but also generate social media engagement. Link your post on "Seven Tips for Saving for Your Summer Vacation" and ask followers, "What are you doing to save for your vacation?" Also consider purely non-commercial posts to humanize your brand. If Todd from customer service is heading to Tahoe, ask your followers: "Any suggestions in South Tahoe?"
Speaking if asking questions to followers, now it's your turn: has your firm rolled out a summer financial marketing campaign? If not, why not? What's the most important component of a summer financial marketing campaign?
Looking to outsource some of your marketing work to a third party but don't know where to start? Download our How to Hire an Inbound Marketing Agency ebook.